 Length overall
18,25 m (59' 10")
---
Cabins
3 + 1 crew
Engine
2 x VOLVO D13 900 hp
---
Max speed
up to 31 kn
A yachting marvel of spacious abundance, the Fly 60 astonishes the senses by exploring the essence of a curated boutique hotel surrounded by endless 
ocean views. Intuitive designs inspire a welcoming and cleverly charming environment, elevated 
by refined interiors and unexpected spatial solutions. Making for an indulgent sense 
of relaxation, the perpetual and infinitely inspiring sea views envelop the guests, accompanying them on their onboard revel. Pursue a getaway to greatness with the Fly 60.
Want to know more?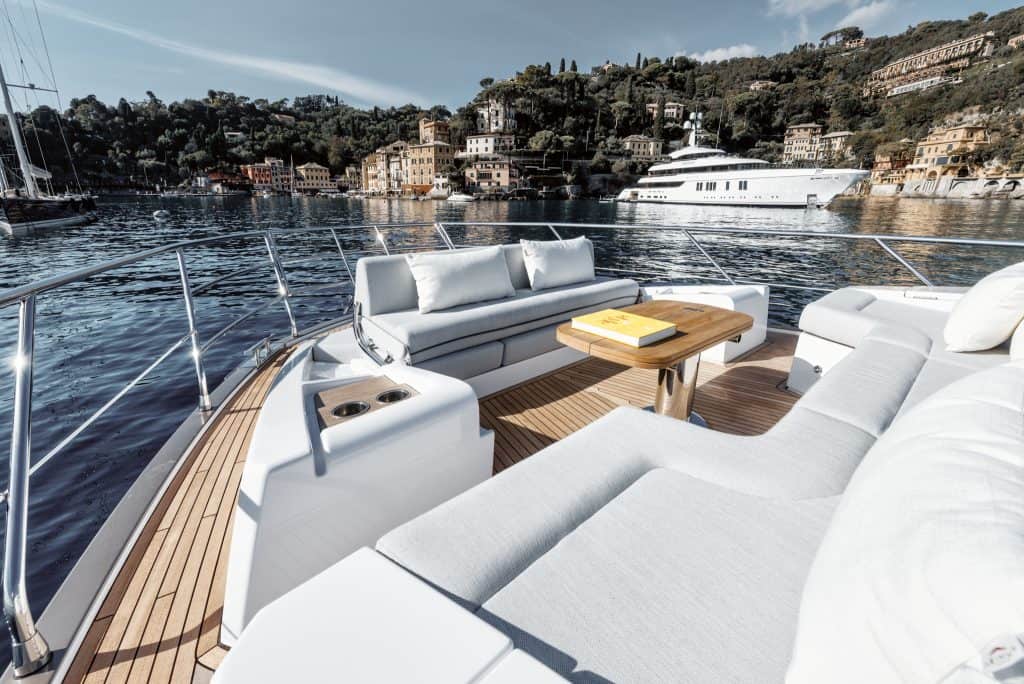 Design
A FLOATING OASIS OF WELLNESS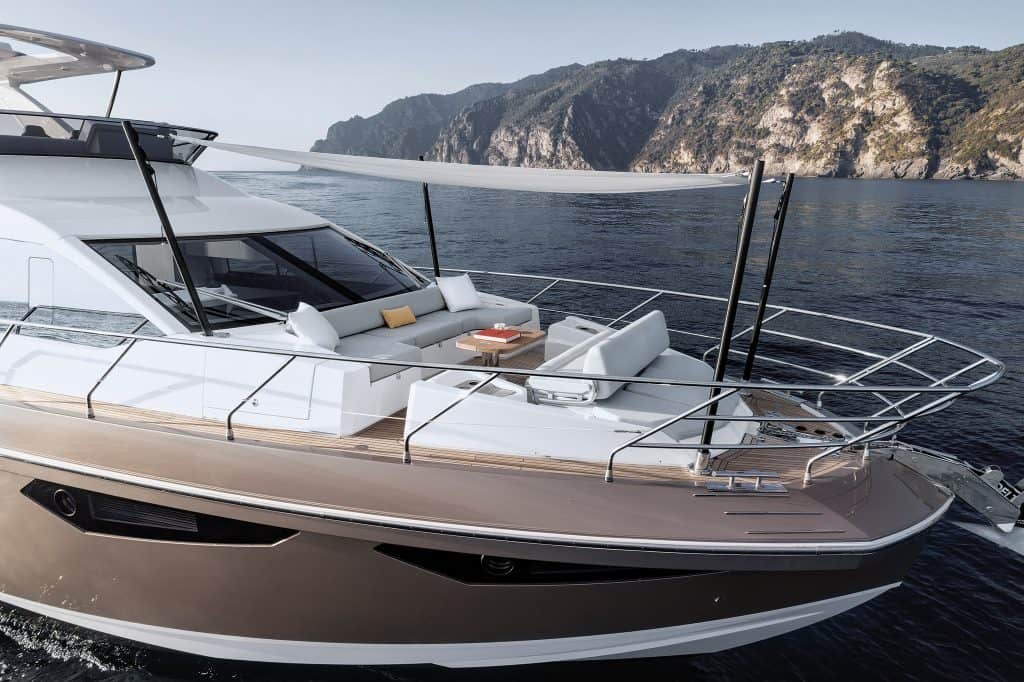 AT ONE WITH THE SEA
A floor-to-ceiling window opens up the main deck through a cutout in the bulwark, right onto the waves. The following flood of natural light charges the interiors with an airy vibe, fitting right in with the wellness-inspiring decor.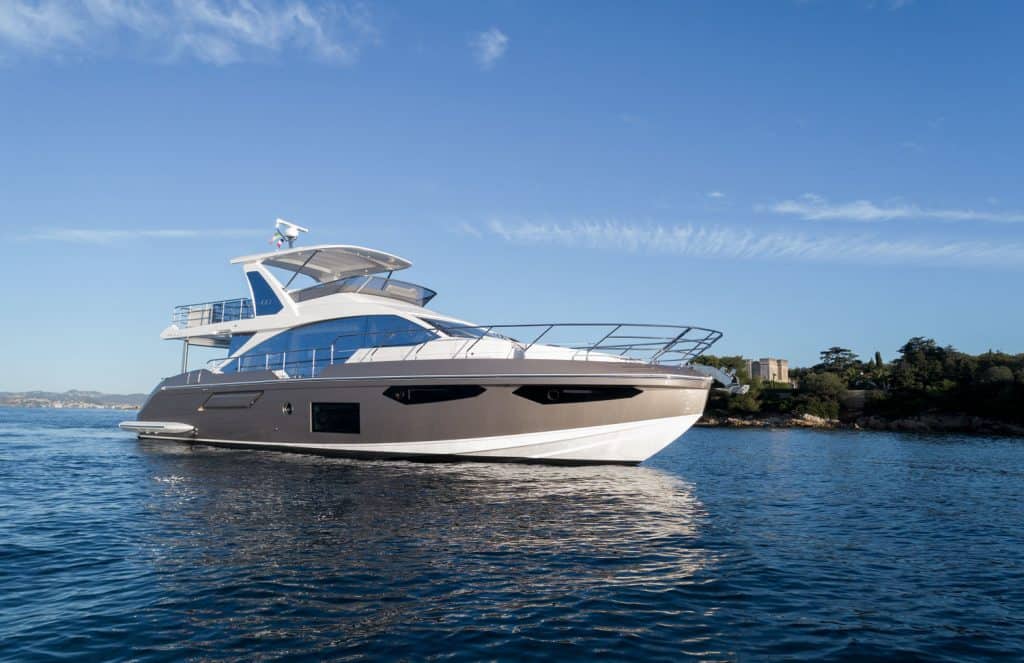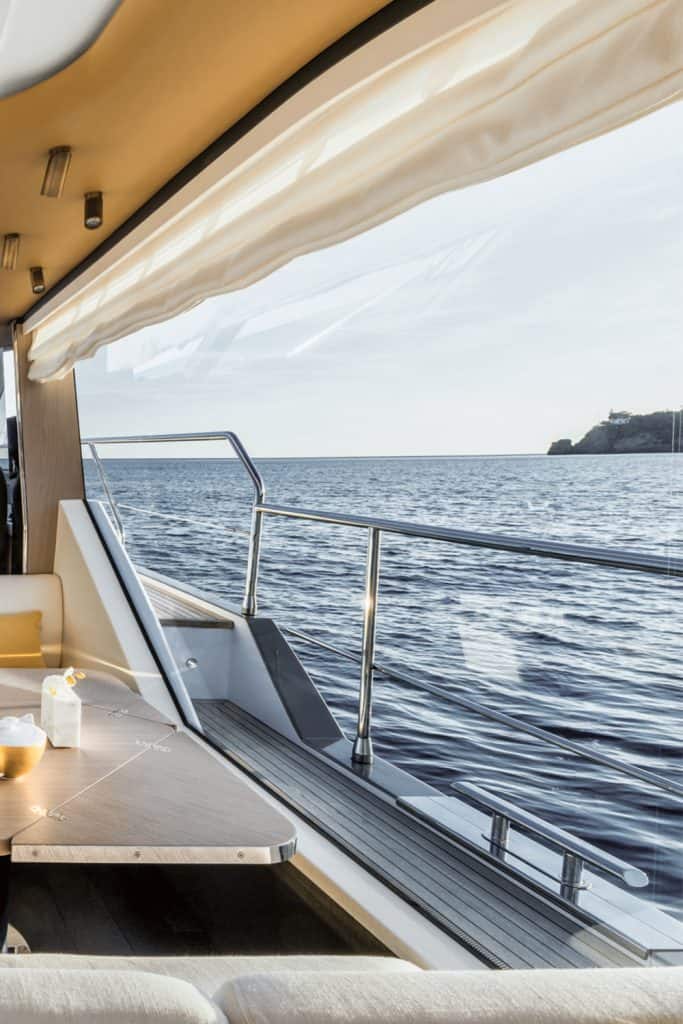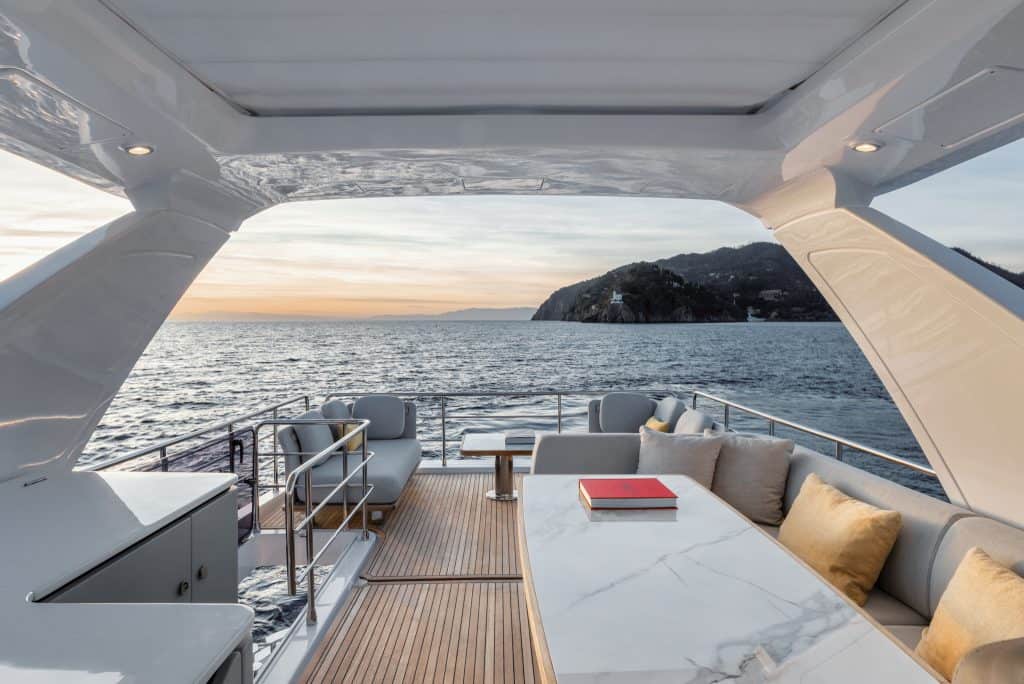 WIDE-RANGING ROOFTOP
The top terrace on the sea is split between three identified areas, from the foremost sunbathing slab, through the hardtoped hosting bar and table, to end the evening aft with a selection of freestanding social seating.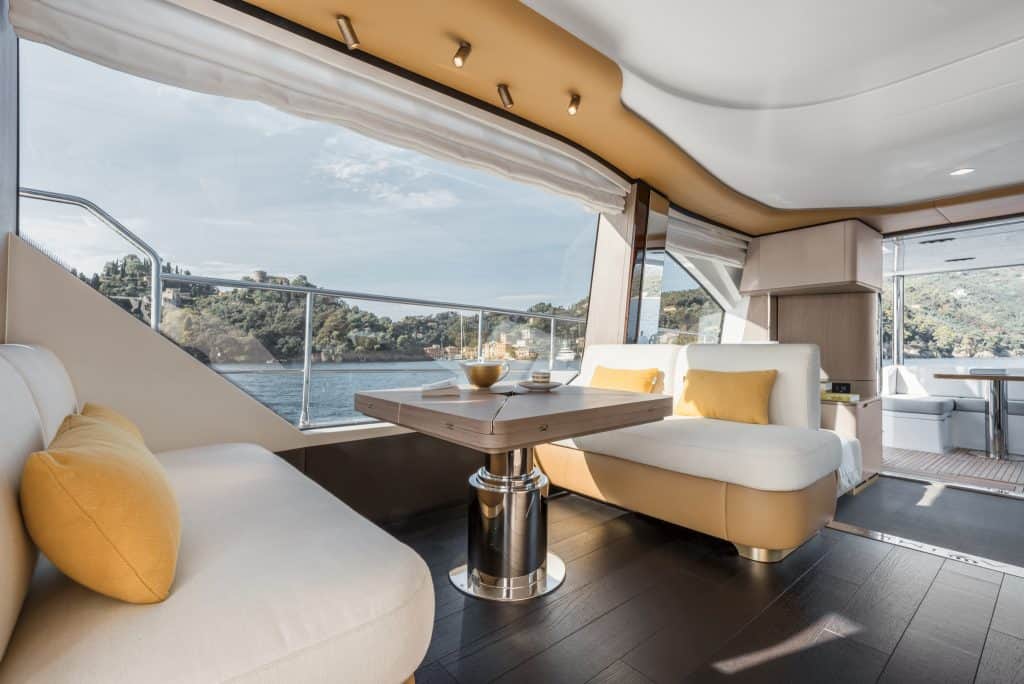 FLEXIBILITY ON DECK
Whether a consolidated or connected main deck is preferred, the layout can accomodate. The landmark lounges on the Fly 60 are flexible, maintaining all their magic as they shuffle around to accomodate a choice of two galley positions. The forward galley is more reserved, while the aft galley breaks down formalities.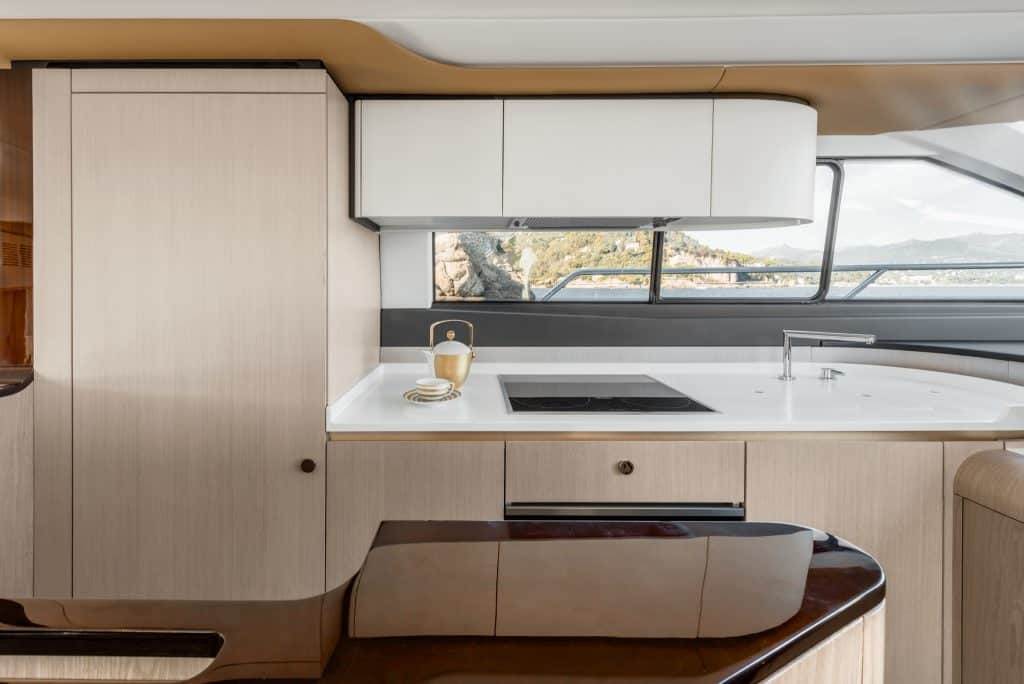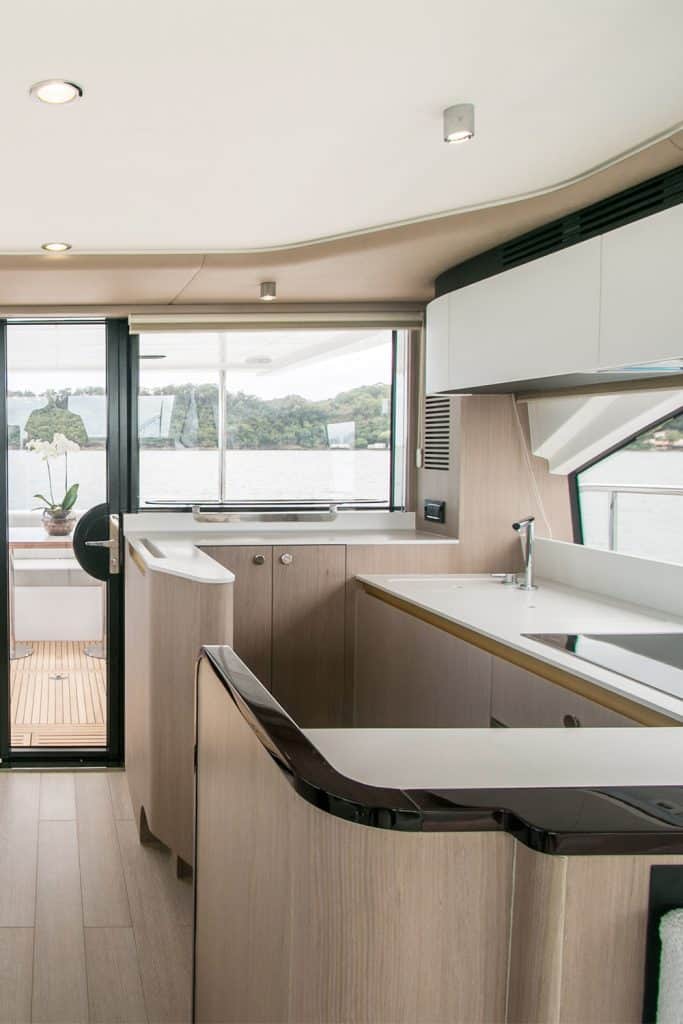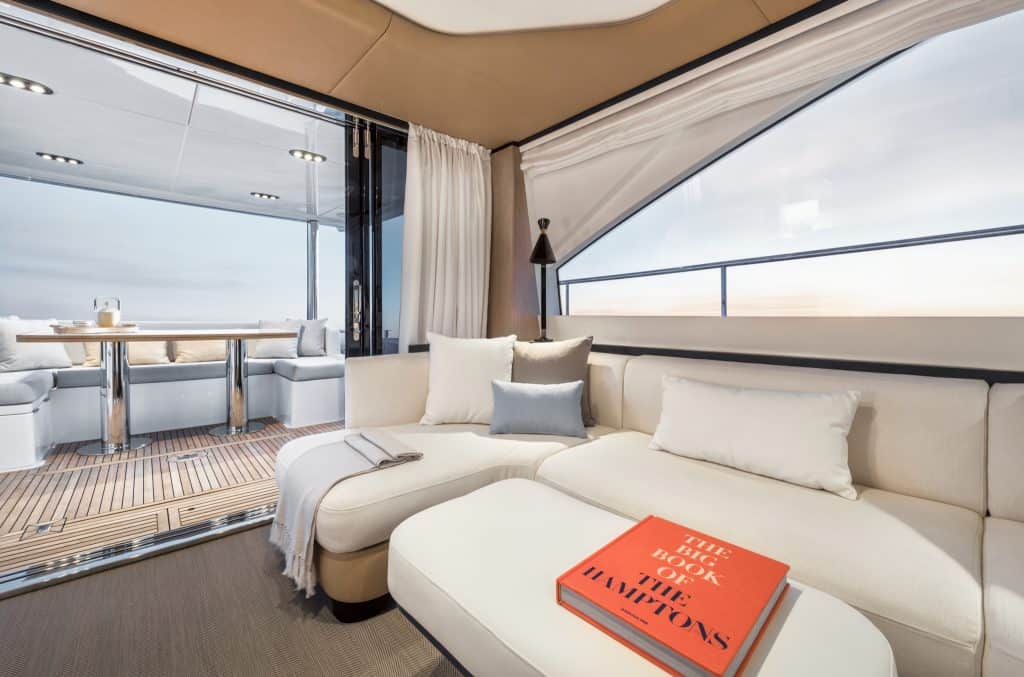 DIVERSE DETAILS MAKE A DISTINCT DIFFERENCE
Architect Achille Salvagni researched the interior design to develop an authentic aura of wellbeing. The spatial composition draws on the organically formed natural essences, punctuated with bronze accents. From the architectural framework to the smallest detail, every element flows from the total vision, achieving perfect harmony.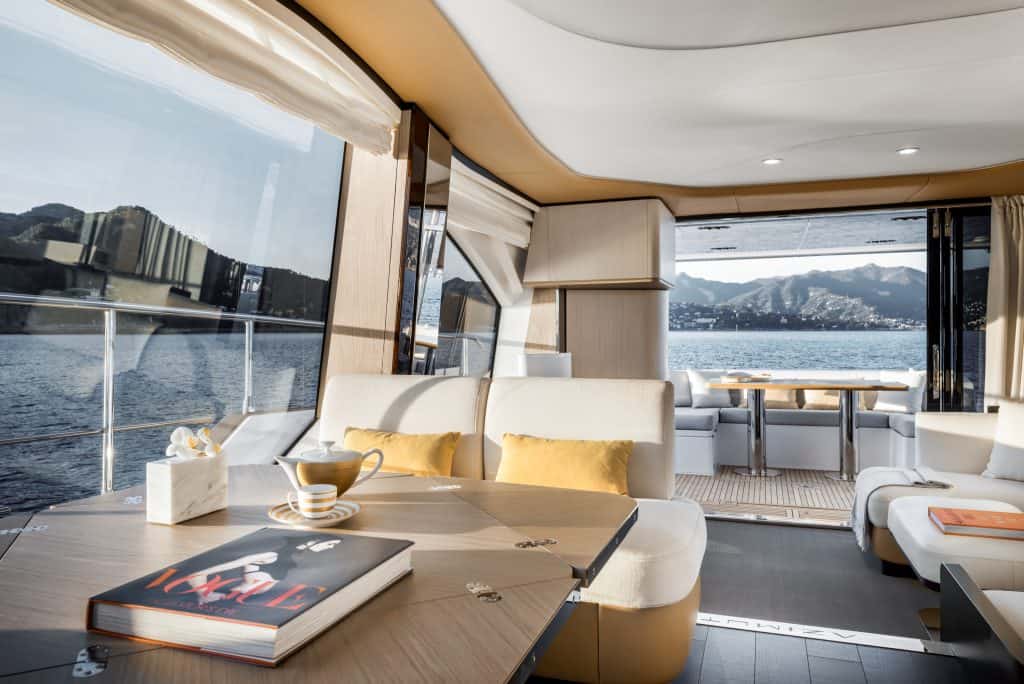 Live an enhanced experience
To know more about this boat, take a true connoisseur cruise.
I'm interested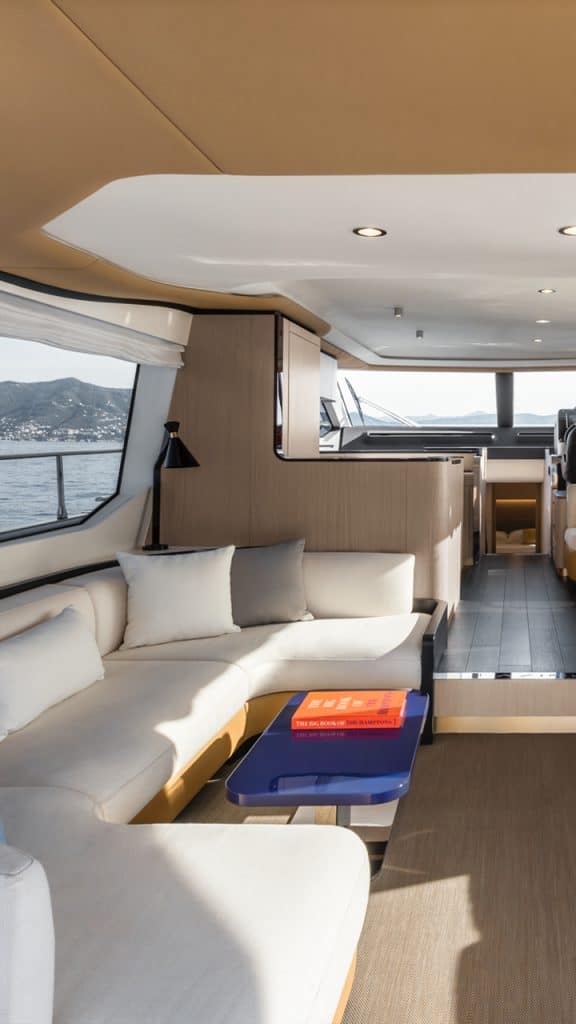 360° VIRTUAL TOUR
Live an enveloping experience on board the Fly 60.
Take the tour
Technical Features
Our advanced toolkit
Carbon-Tech Generation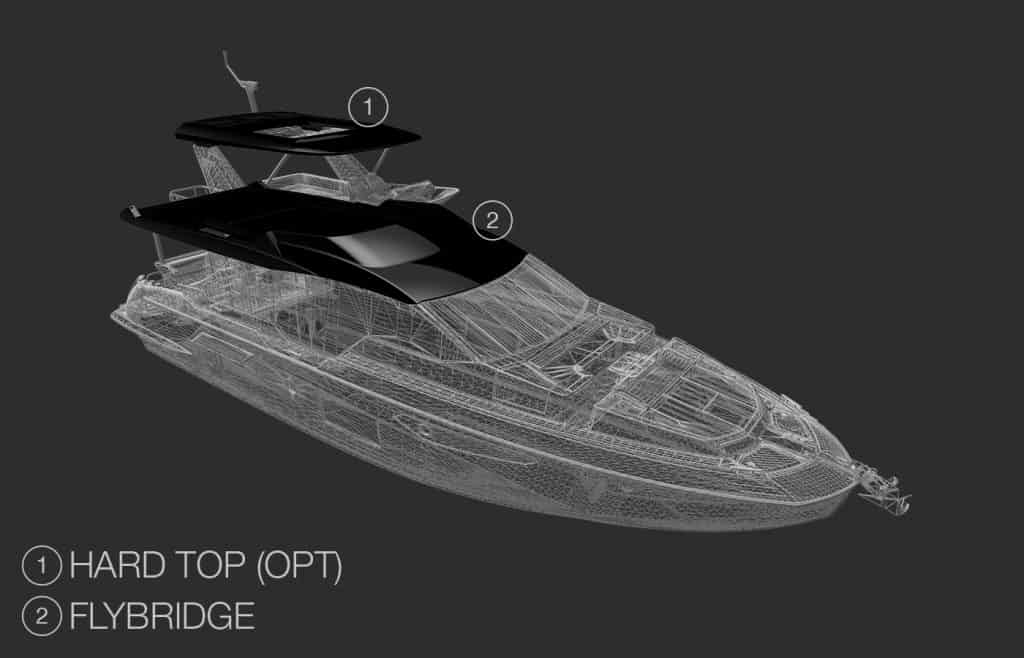 Azimut's pioneering use of carbon fiber lamination goes beyond pure performance. The Carbon Tech Generation offers expanded volumes onboard, while maintaining excellent dynamic stability and perfect handling. Preserving the yacht's low center of gravity, the carbon fiber was focused on the upper parts of the yacht, lightening the laminated components by up to 30% and reducing the natural roll momentum up to 15%.
Eco-Yachting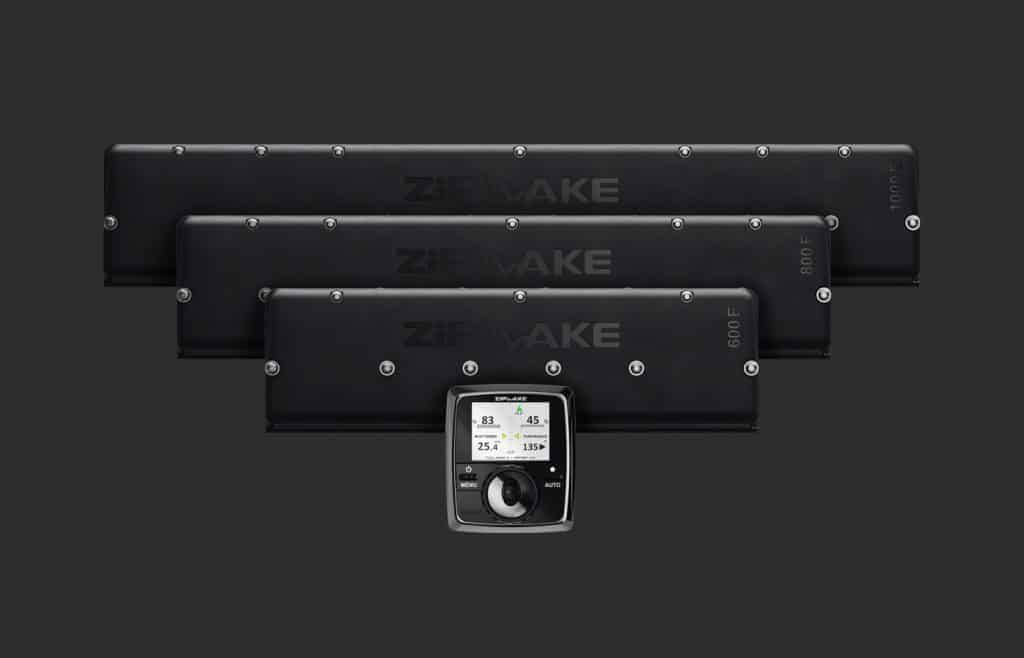 Automated interceptors optimize the trim at every speed to maintain ideal hydrodynamics for performance and efficiency, at the same time negating any lateral imbalance due to sidewinds or weight distribution. With the pilot's peace of mind assured, the driving experience is simpler and more enjoyable.
Electronic Power Steering (EPS)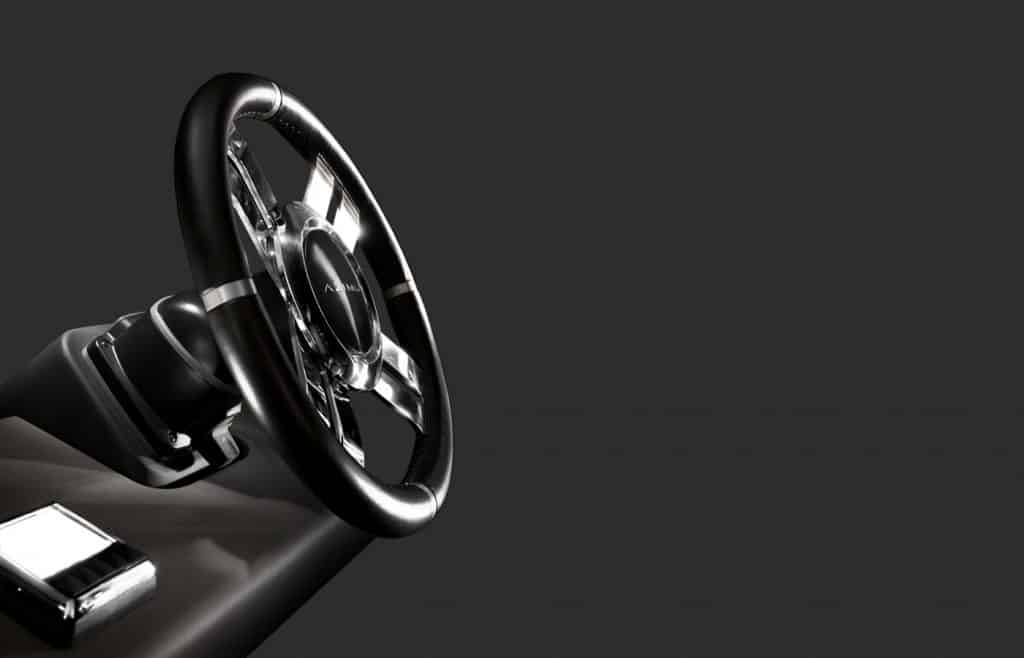 At the helm, the innovative Optimus Electronic Power Steering system by Seastar Solutions gives you a similar sensation to driving a top of the range car. The steering sensitivity and resistance can be linked to speed, enhacing the pilot's control in every situation. The system also has the additional benefit of eliminating the hydraulic piping between the helm station and the rudder compartment.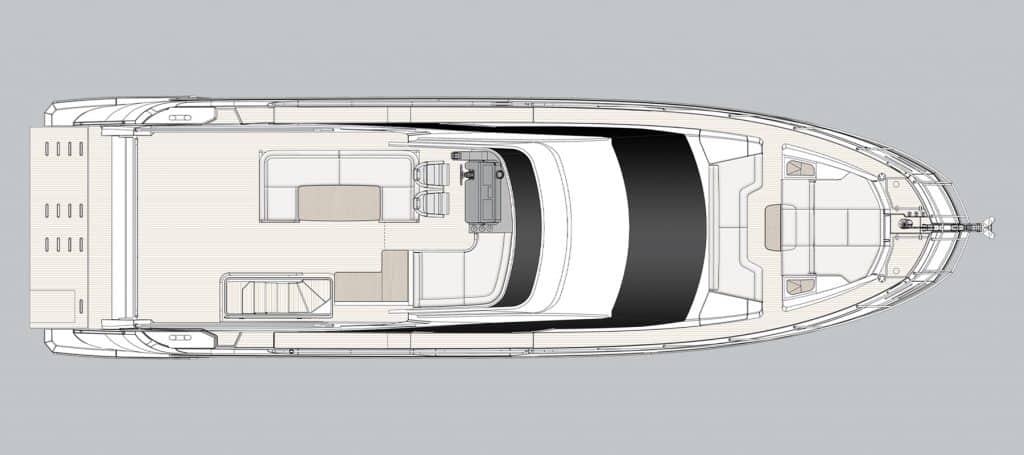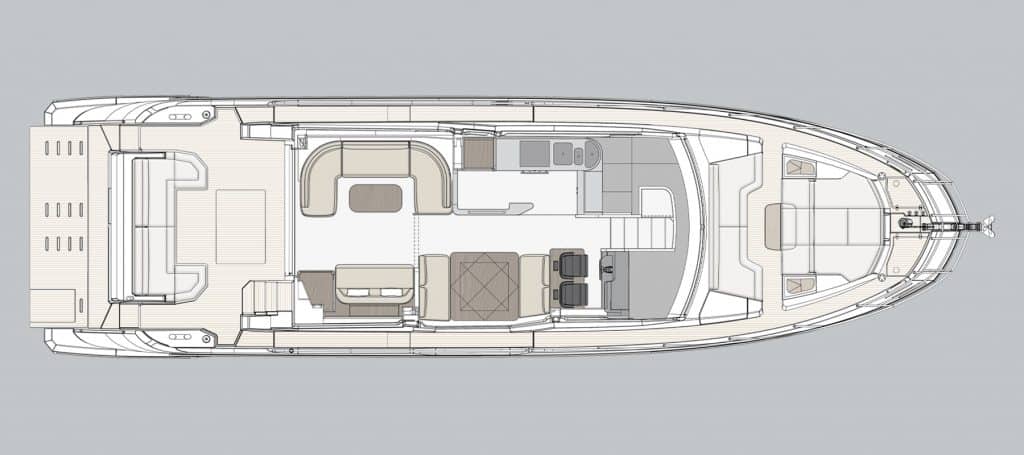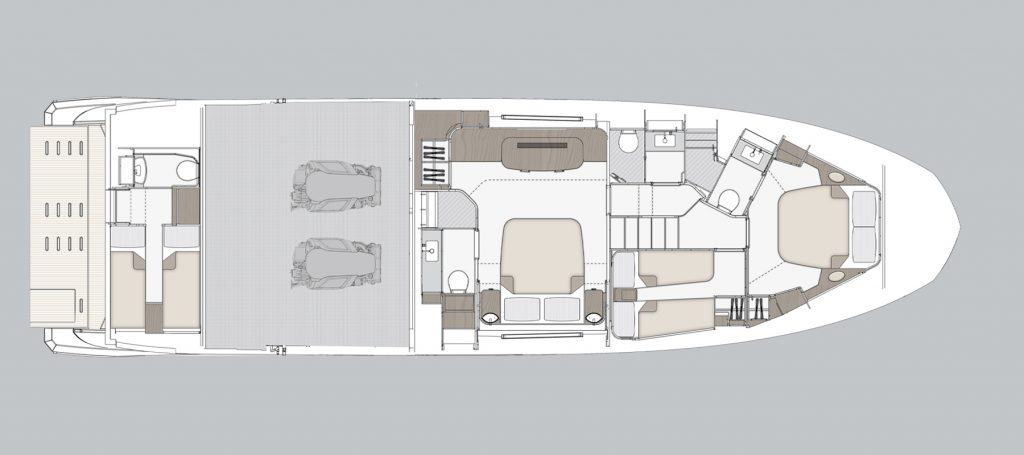 Data summary
FLY 60
AT A GLANCE
Main Technical Specifications
Length overall (incl. pulpit)

Draft (incl. props at full load)

Displacement (at full load)
Achille Salvagni Architetti

P.L. AUSONIO Naval Architecture & Azimut R&D Dept.

Planing, deadrise 15,6° aft and 22° deadrise amidship
Maximum speed (test load)

Cruising speed (performance test mass)
the data refer to UNI ISO 8666 conditions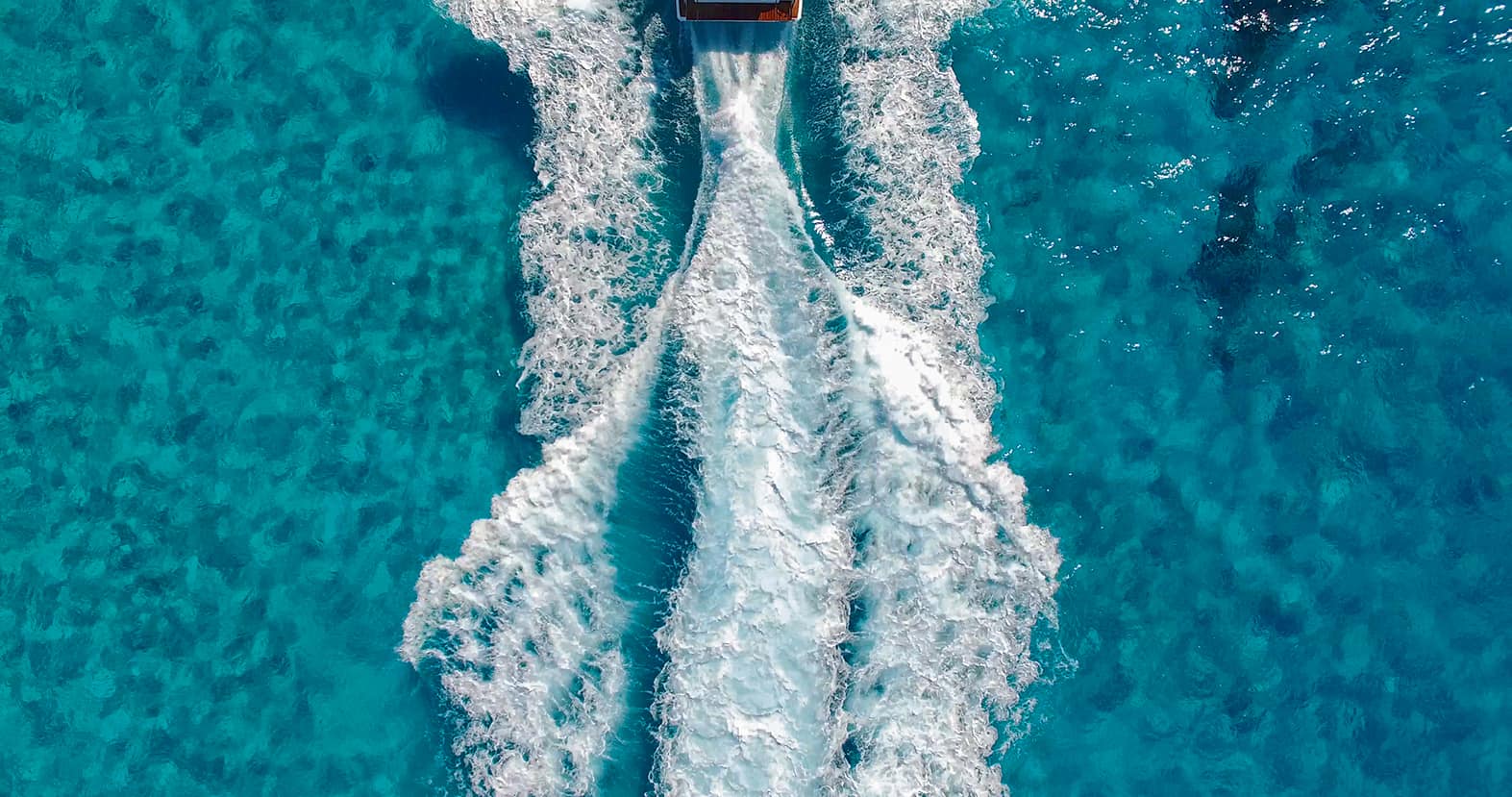 Our select dealers will proudly provide you with all the information you require