 Length overall
20,15 m (66' 1'')
---
Cabins
6/8 + 2 crew
Engines
2 x 850 hp (625 Kw) MAN i6
---
Max speed
up to 24 kn
Conceived for blissfully reserved sea voyages, the Magellano 66 complements its crossover character through the possibility of a privacy-oriented onboard design. The large, single-level main deck aptly appeals to diverse lifestyles, offering either a unique open space solution with semi-secluded flows to lightly separate guests from crew or the Navetta layout for a completely independent galley and wheelhouse. Explore your nautical lifestyle on the Magellano 66.
Want to know more?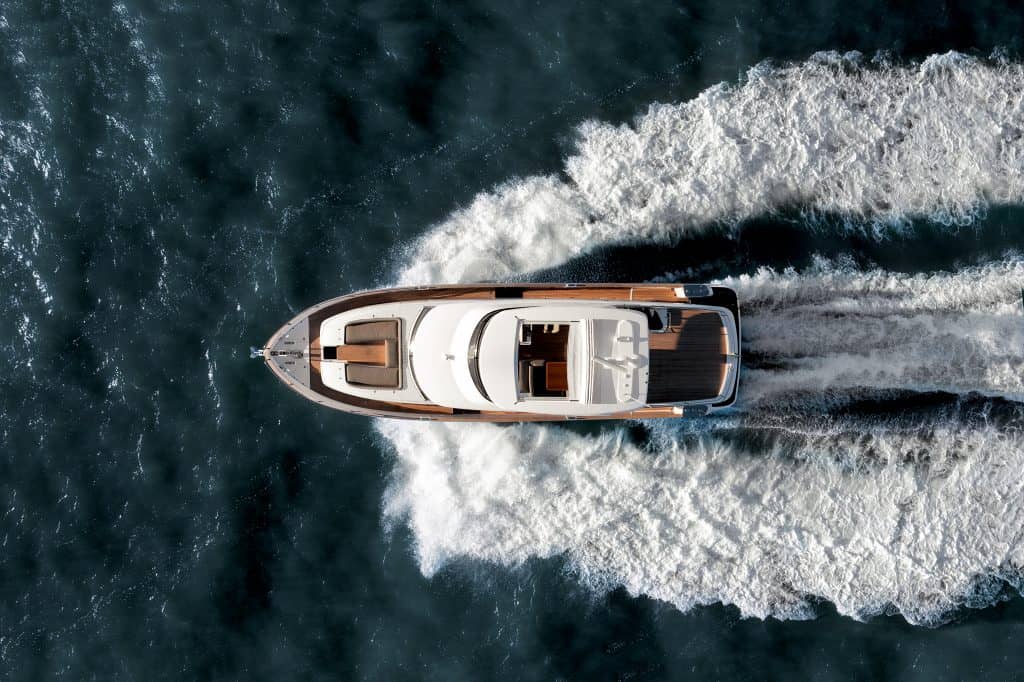 Design
A PERSONAL NAUTICAL NARRATIVE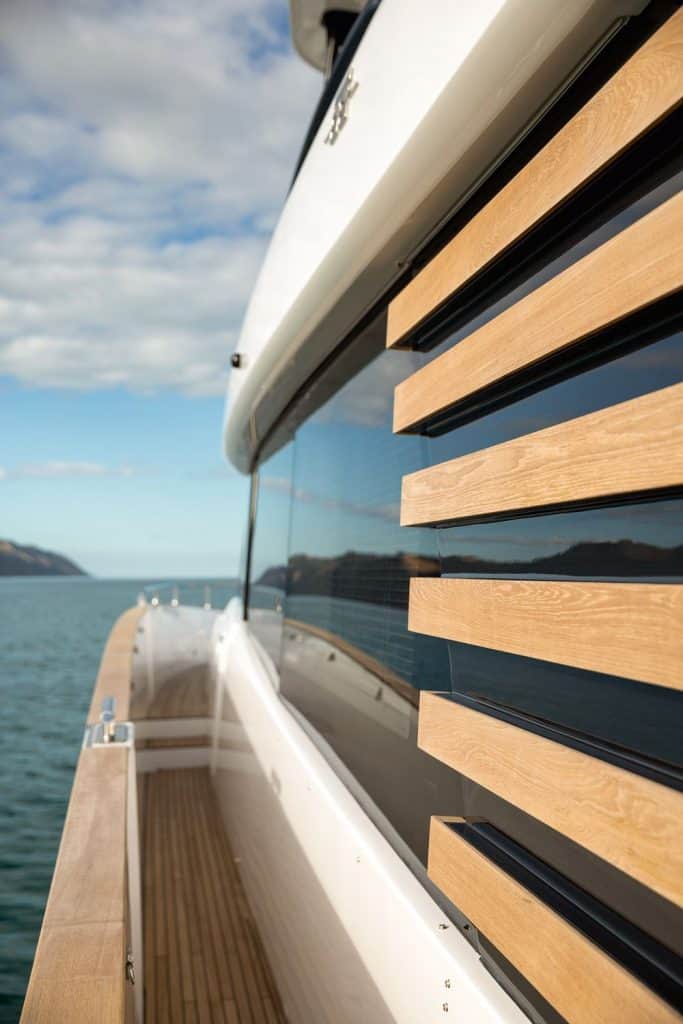 DESIGNED WITH WELCOMING
All the spaces have been conceived to give a comfy, convivial onboard experience. On the cockpit, the extended sofa wraps around a vast dining table. There's room for all the guests to gather on this sheltered-yet-open-air lookout, and the aftmost backrest can be stowed away to reveal a glass parapet. The infinity terrace effect breaks down the barriers to a clear view of the waves.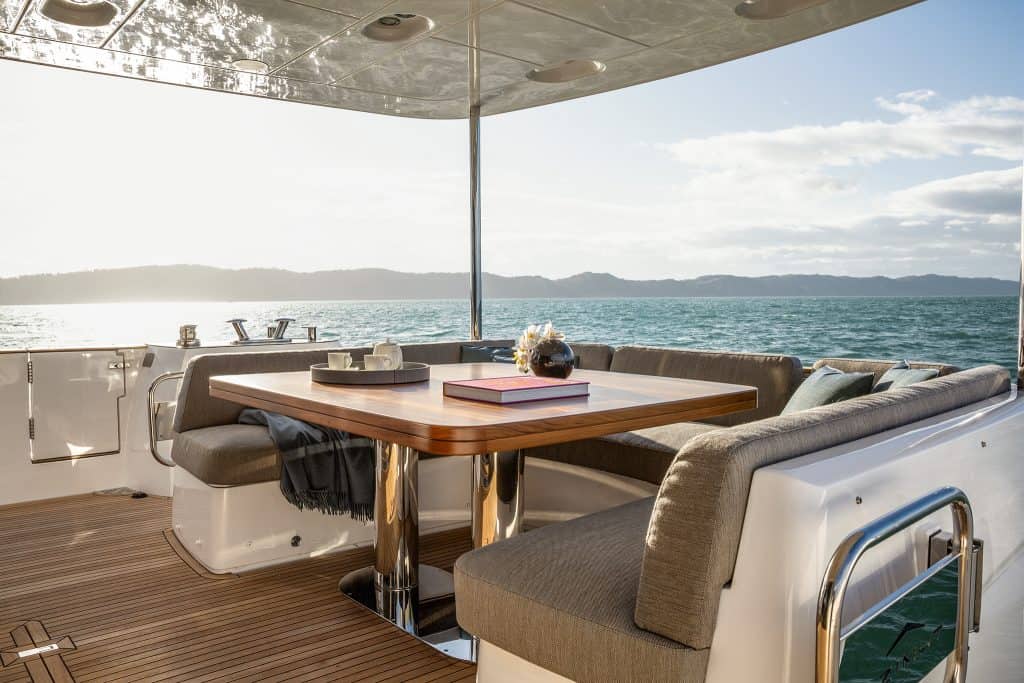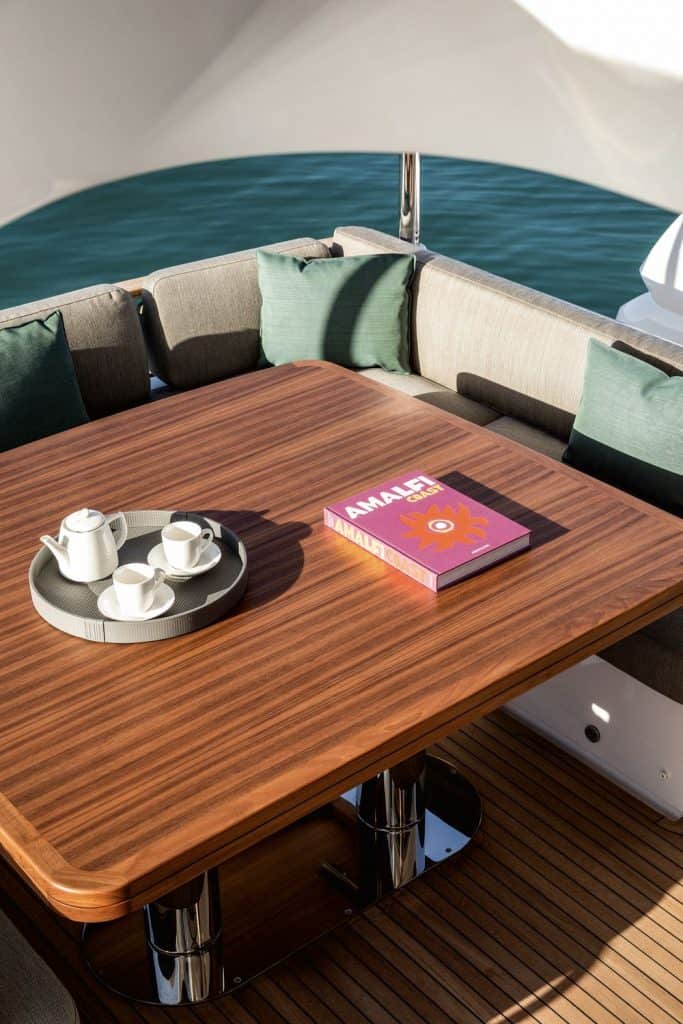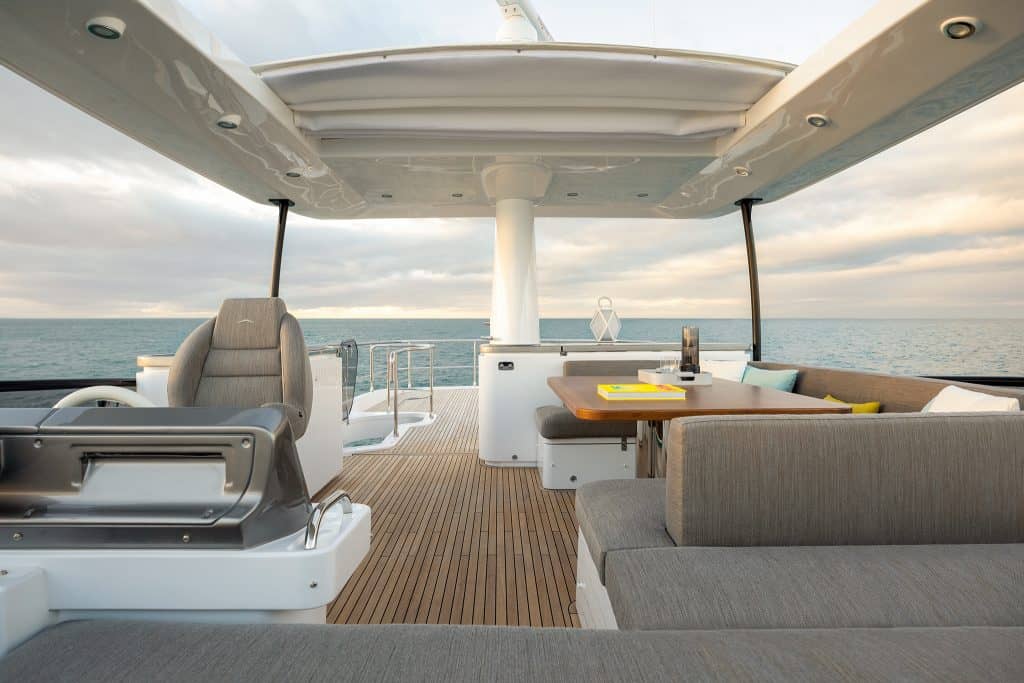 BETWEEN SEA AND SKY
The flybridge is divided into three distinct areas and can also host an American bar to enrich the aft lounge with comfort. Great attention is paid to the storage compartments with respect to their importance.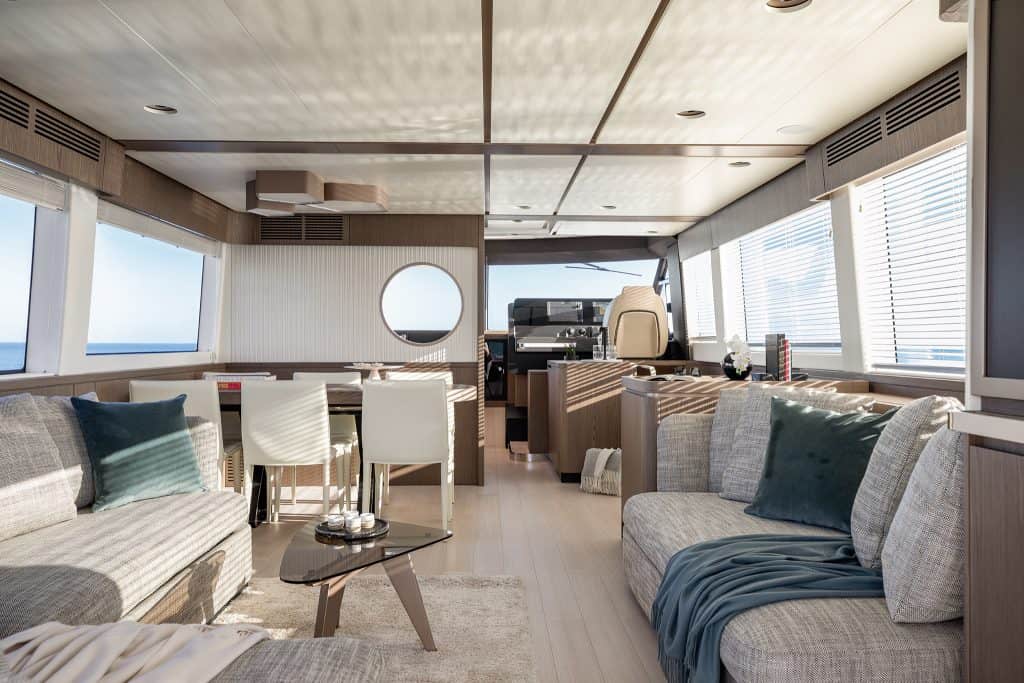 A UNIQUE LEVEL OF PRIVACY
The main deck layout already separates crew and guest flows for unprecented privacy, even as a unique open space. The second layout possibility, named Navetta, further enhances privacy by completely secluding the galley and wheelhouse area, which can be accessed directly via the side door. The Navetta version also allocates additional storage for provisions.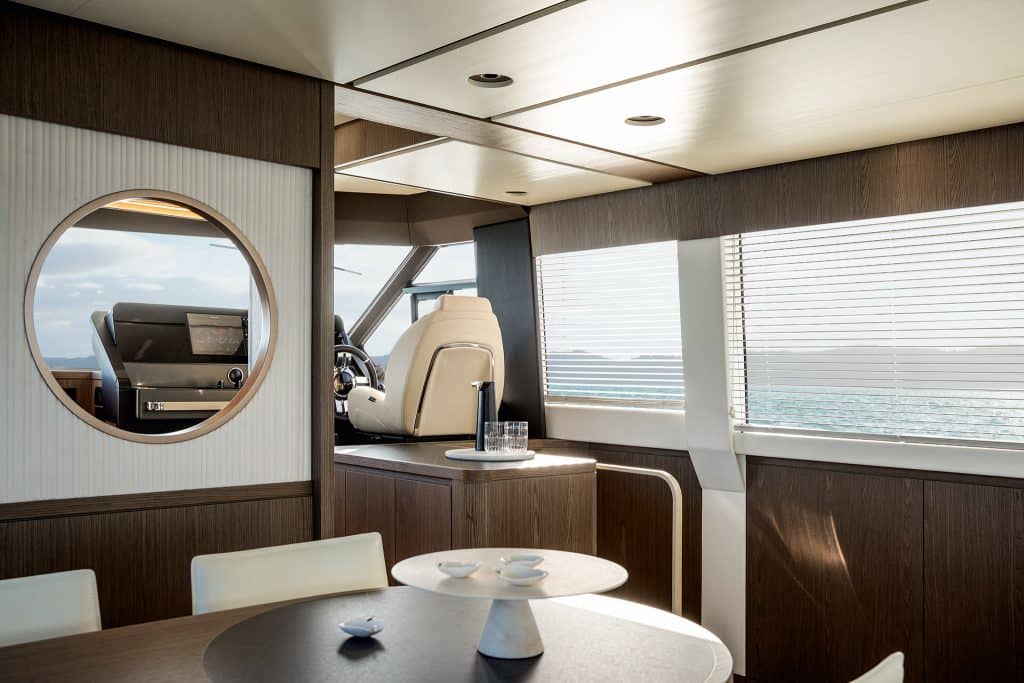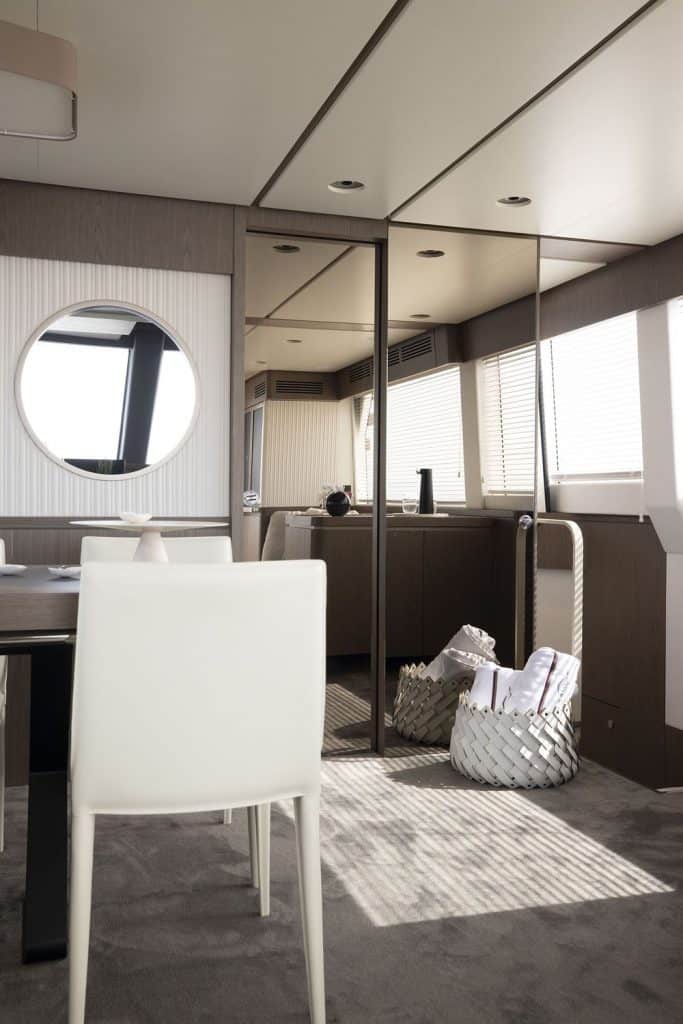 THE ART OF DAILY LIFE
The interior design is characterized by coziness and elegance. Atmospheres that seem suspended in time are the perfect accompaniment for long-range journeys, a balance for harmonious travel with elegantly refined yet warmly welcoming decoration. The storage spaces are studied with awareness of their essential role, where and how much they are needed.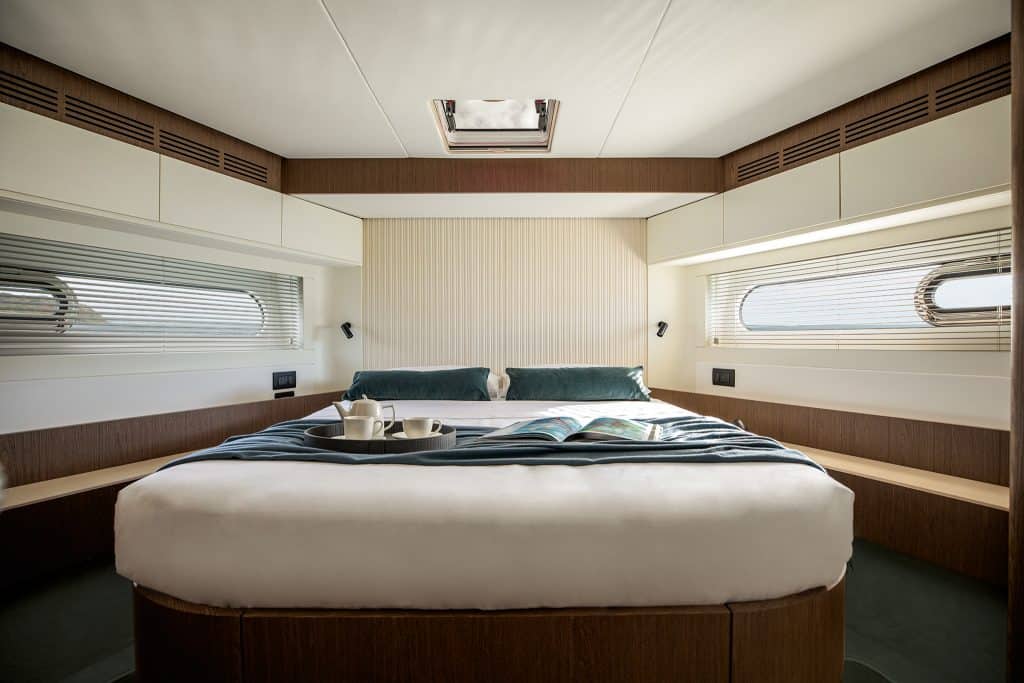 Live an enhanced experience
To know more about this boat, take a true connoisseur cruise.
I'm interested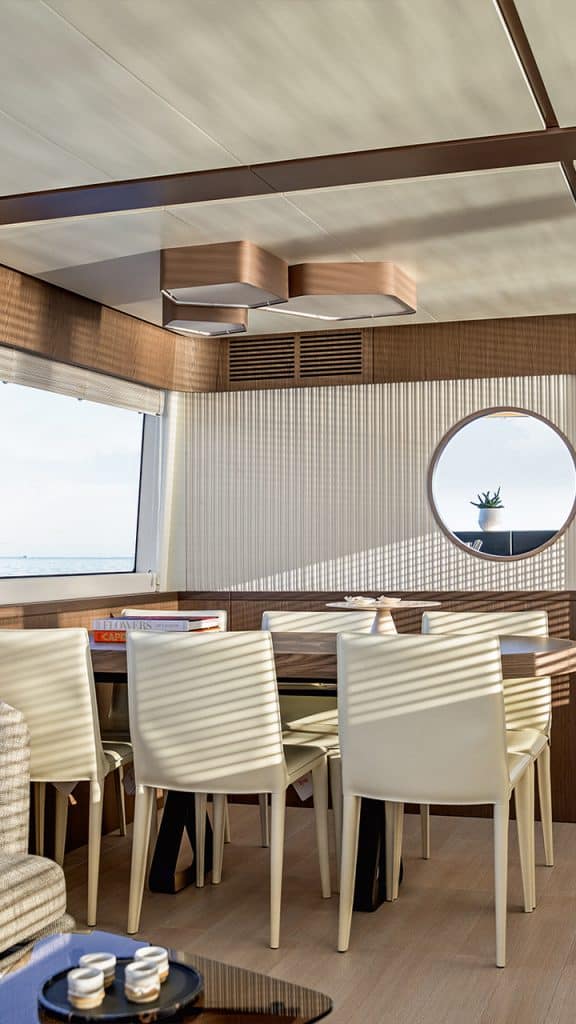 360° VIRTUAL TOUR
Live an enveloping experience on board the Magellano 66.
Take the tour
Technical Features
OUR ADVANCED TOOLKIT
Low Emission Yacht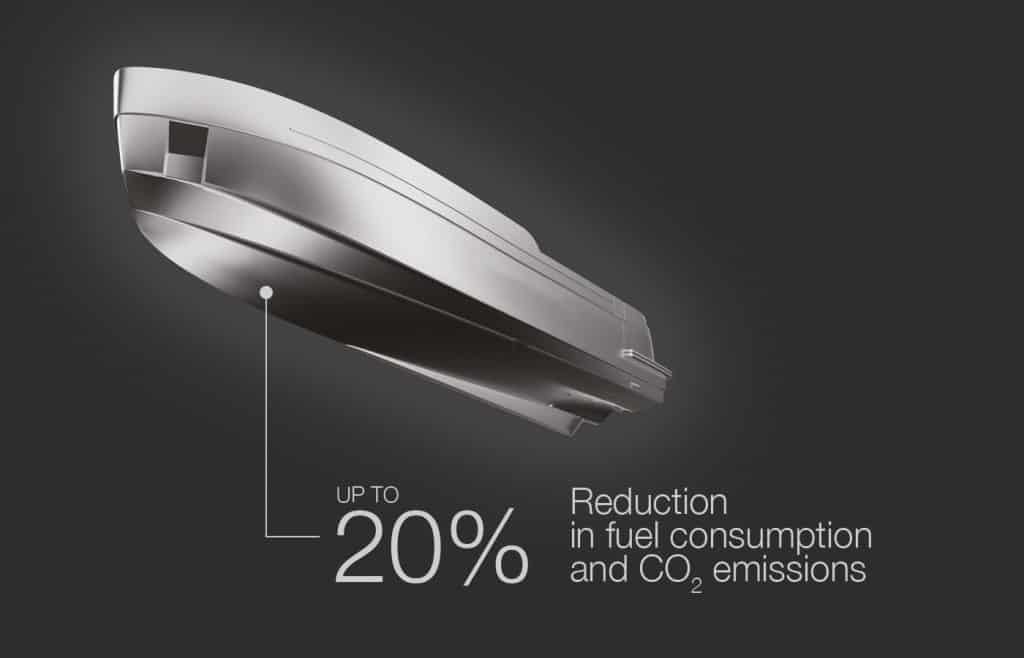 Azimut Dual Mode Hull
The Dual Mode hull is a highly efficient semi-planing hull designed to reduce fuel consumption and CO2 emissions by up to 20% at medium speeds*, guaranteeing superior navigation comfort in a wider range of sea conditions. The double-chine hull, combined with the vertical bow, minimizes the impact of waves and thus offers greater freedom of navigation, cruising comfortably at low speeds for extended durations as well as at higher speeds.
*compared to vessels of the same weight and size with a traditional hard-chine hull
Eco-Yachting
Carbon-Tech Generation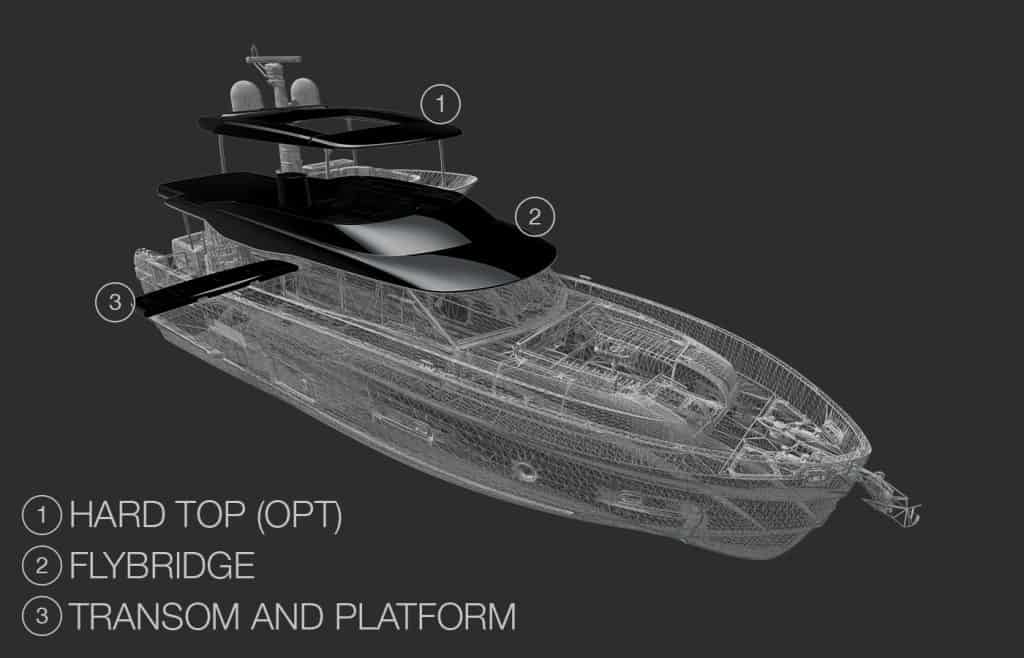 Azimut's pioneering use of carbon fiber lamination goes beyond pure performance. The Carbon Tech Generation offers expanded volumes onboard, while maintaining excellent dynamic stability and perfect handling. Preserving the yacht's low center of gravity, the carbon fiber was focused on the upper parts of the yacht, lightening the laminated components by up to 30% .
Eco-Yachting
High Technical Standard Declaration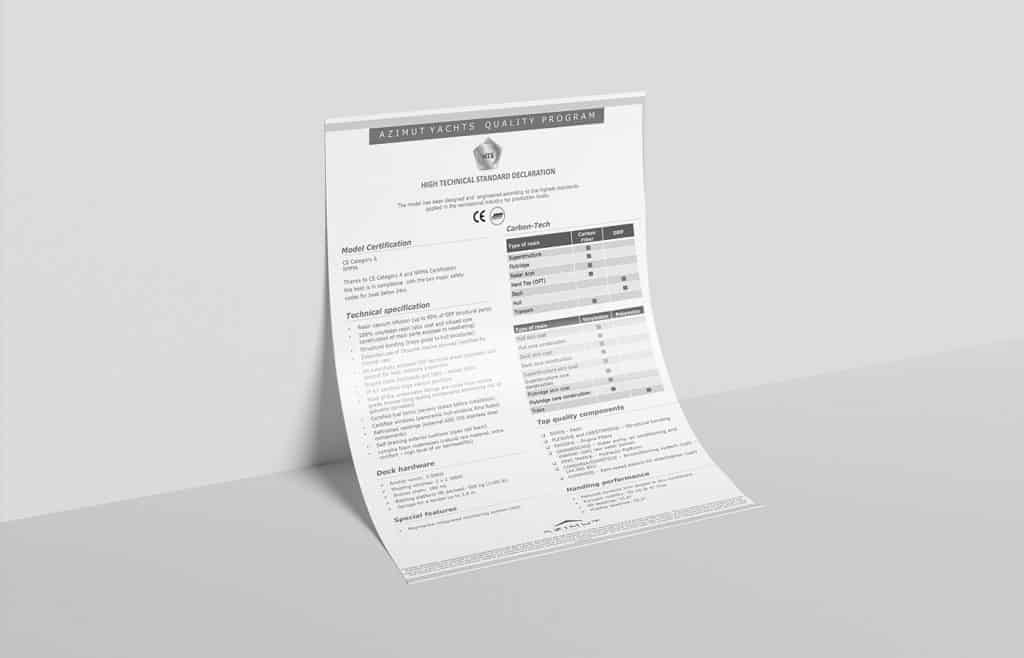 This yacht's design and engineering meet the highest standards for production recreational vessels. Azimut Yachts issues a declaration of the premium materials, advanced technology and rigorous testing procedures.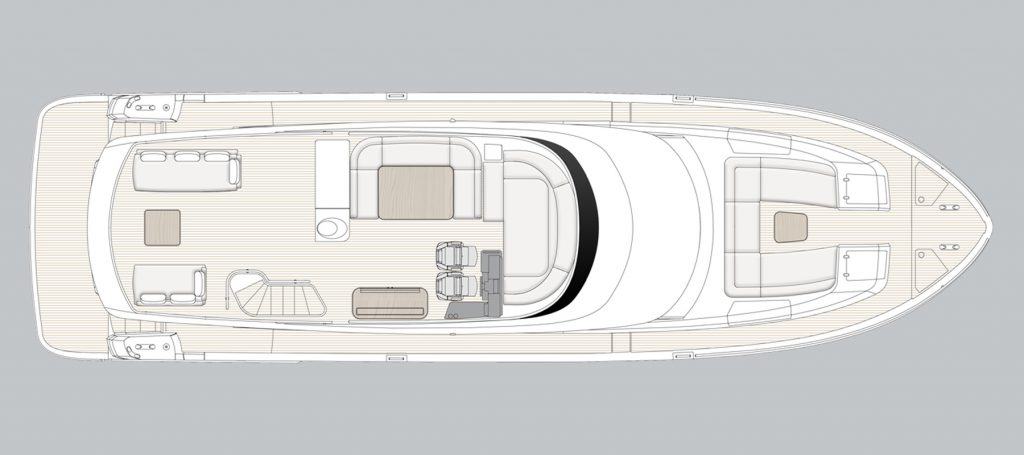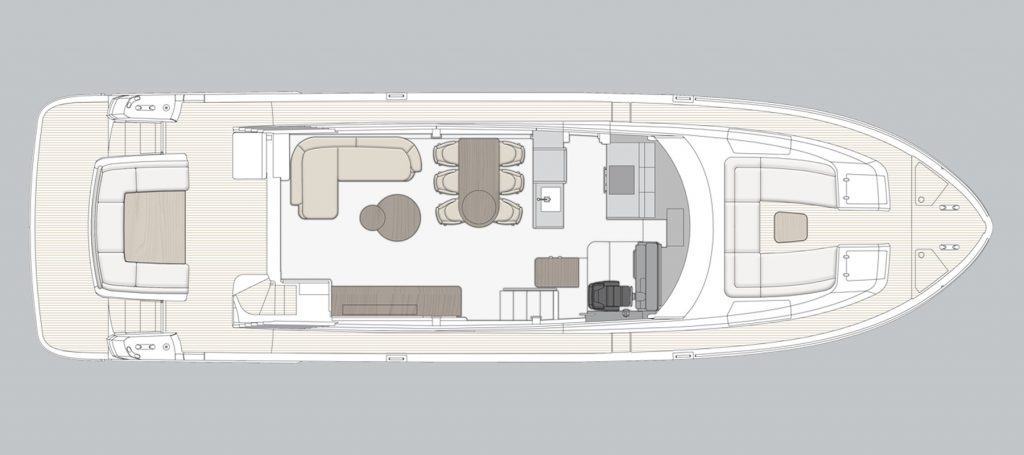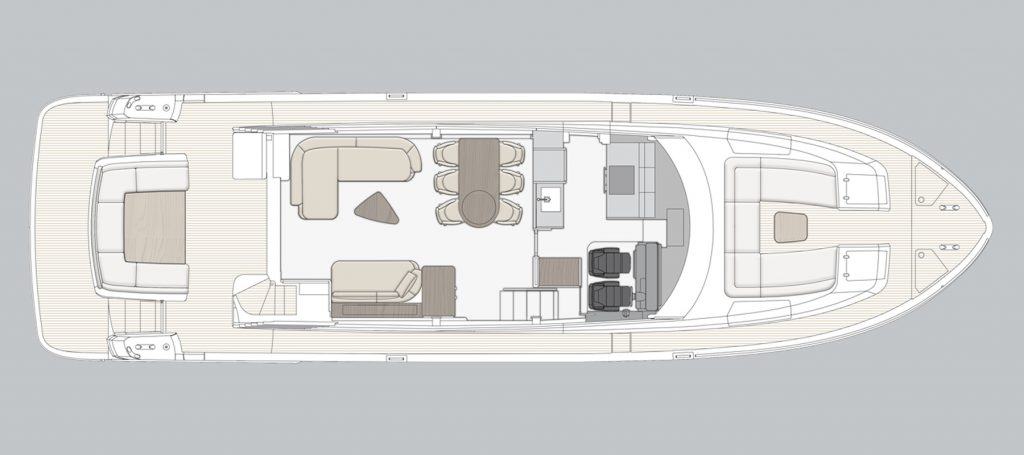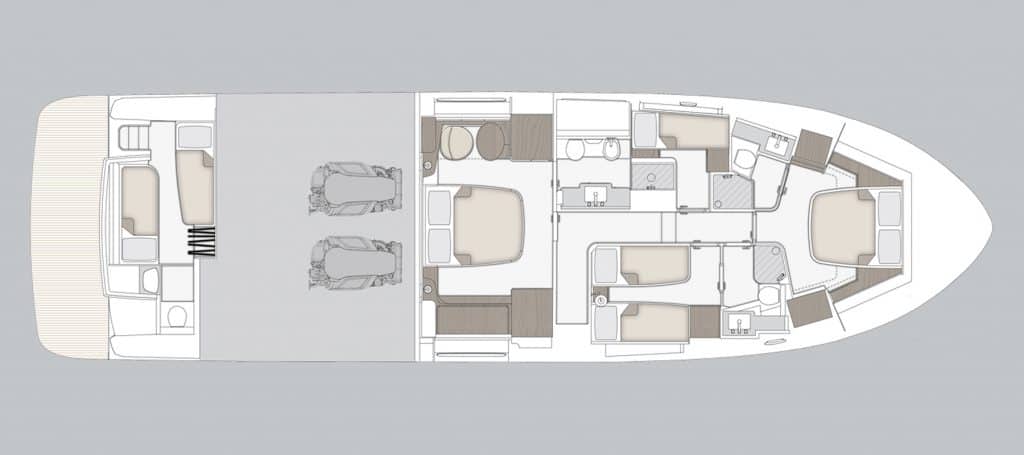 Data summary
MAGELLANO 66
AT A GLANCE
Main Technical Specifications
Length overall (incl. pulpit)

Draft (incl. props at full load)

Displacement (at full load)
P.L. AUSONIO Naval Architecture & Azimut R&D Dept.
2 x 850 hp (625 Kw) MAN i6

Maximum speed (test load)

Cruising speed (performance test mass)
the data refer to UNI ISO 8666 conditions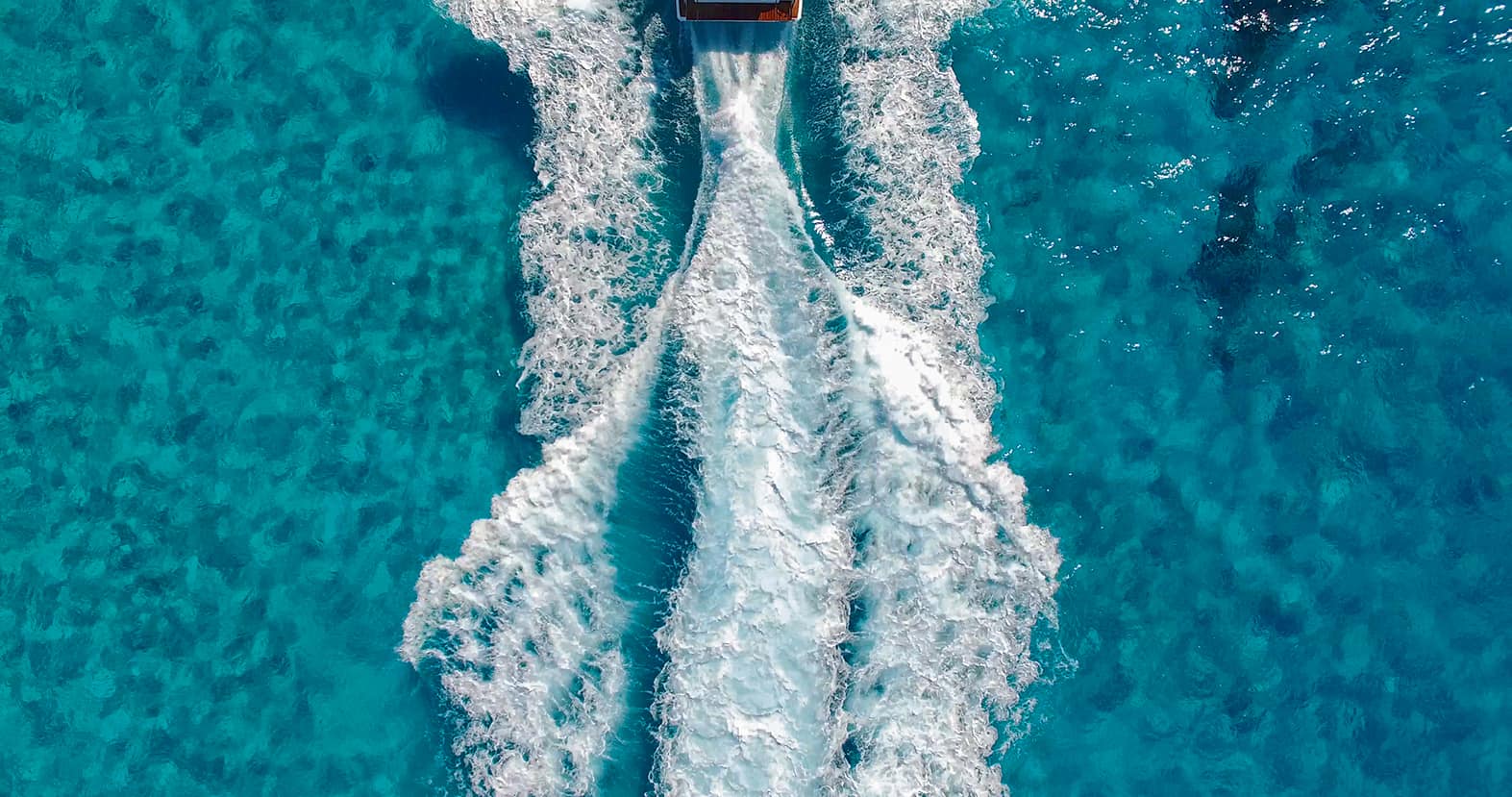 Our select dealers will proudly provide you with all the information you require