 Length overall
22,57 m (74' 1'')
---
Cabins
4 + 1 crew
Engines
2 x MAN CR V12 1400 mHP
---
Max speed
up to 31 kn
Aspiring to authentic nautical harmony, the Fly 72 balances cloud-like comfort on knife's edge naval architecture. The pursuit of perfect proportions diffuses a gentle transversality across the onboard environments, with distinctive design details echoing throughout the surrounding spaces. Between the refined hull shape, carbon fiber construction and powerful propulsion, the sportiness of the experience defies the expanding volumes for hosting. Experience a new equilibrium aboard the Fly 72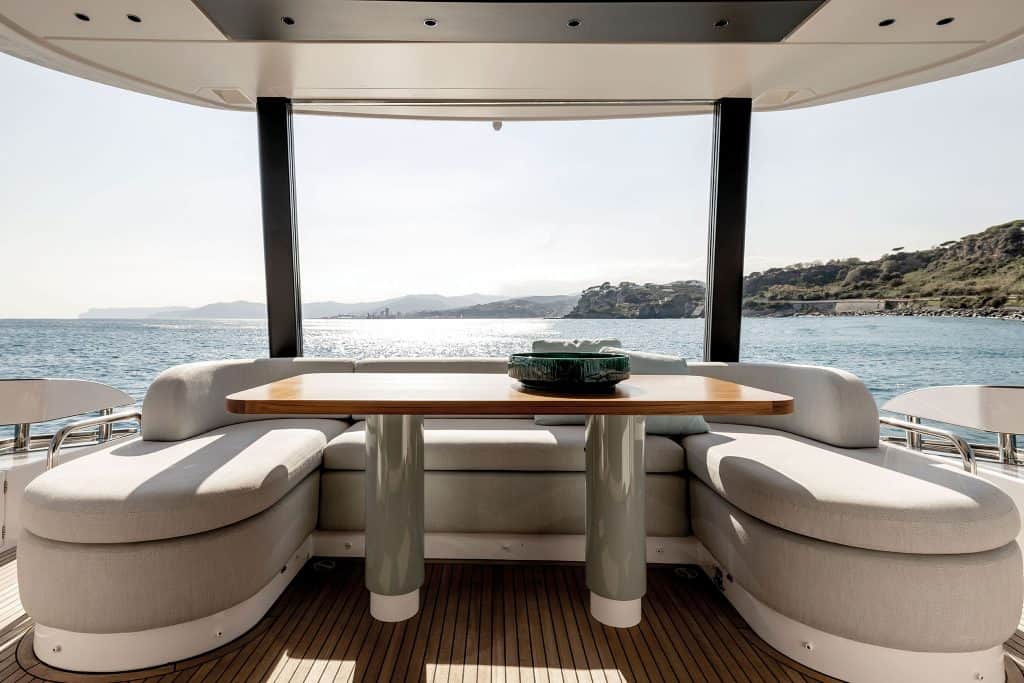 Design
CRAVING THE CUTTING EDGE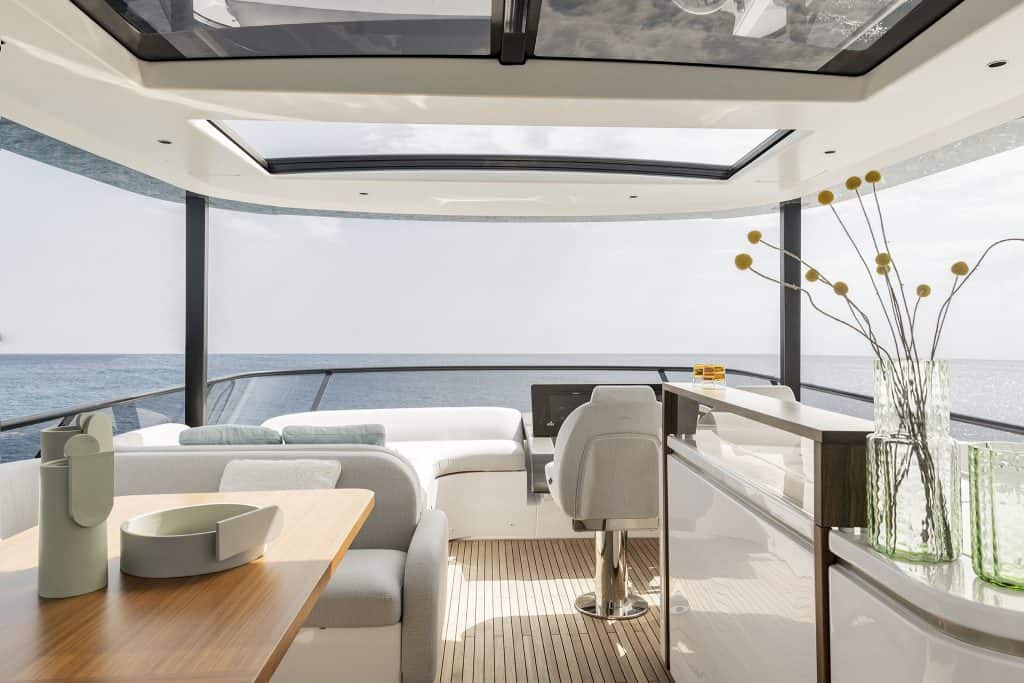 FORWARD FACING
The transforming bow lounge offers extensive sunbathing with convivial seating ready to deploy for cocktails at sunset. Thanks to the carbon-fiber-pole-supported bimini, either of the two bow configurations can be enjoyed throughout the day with panoramic views.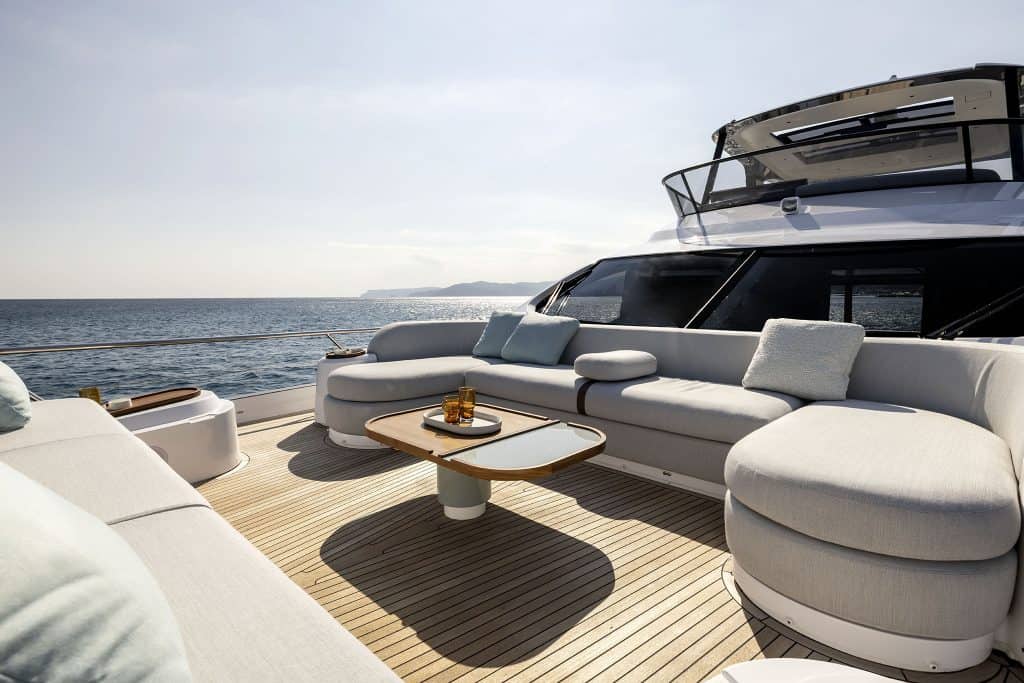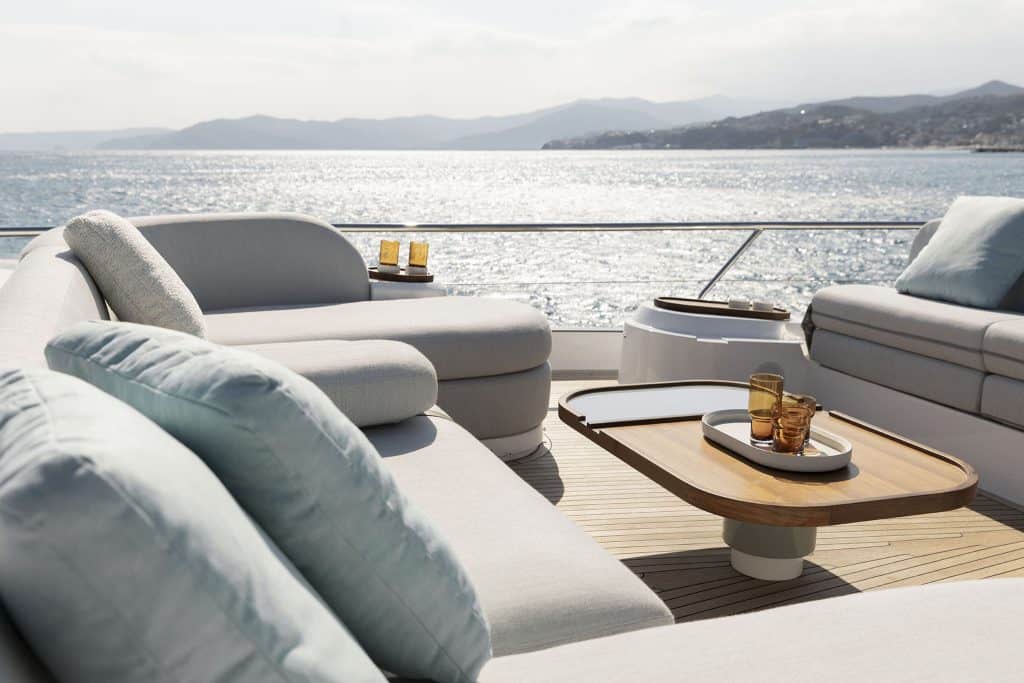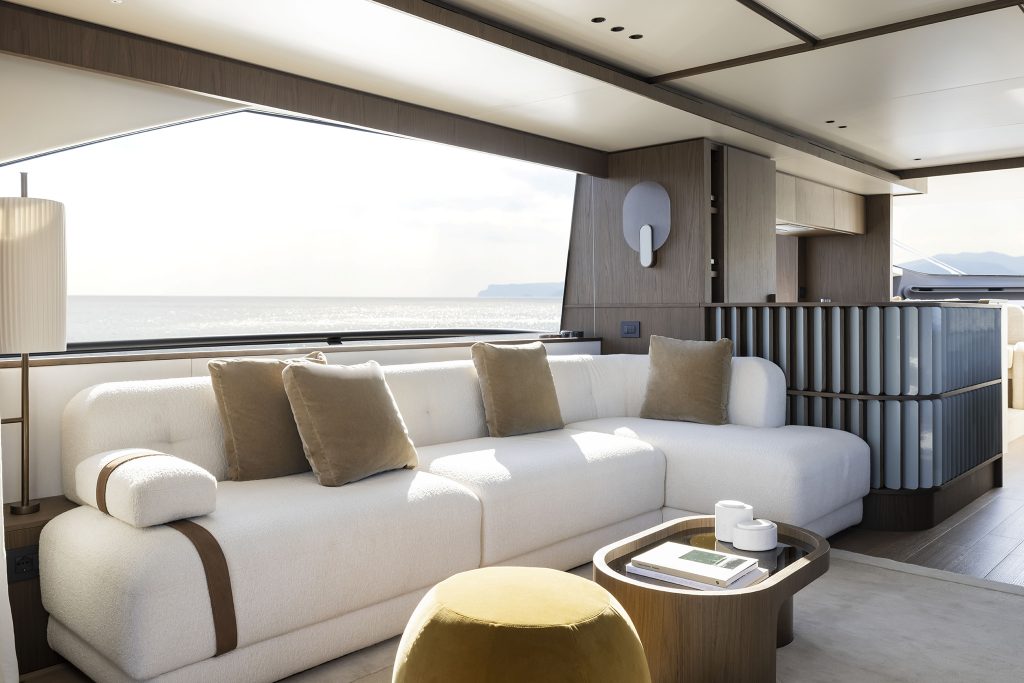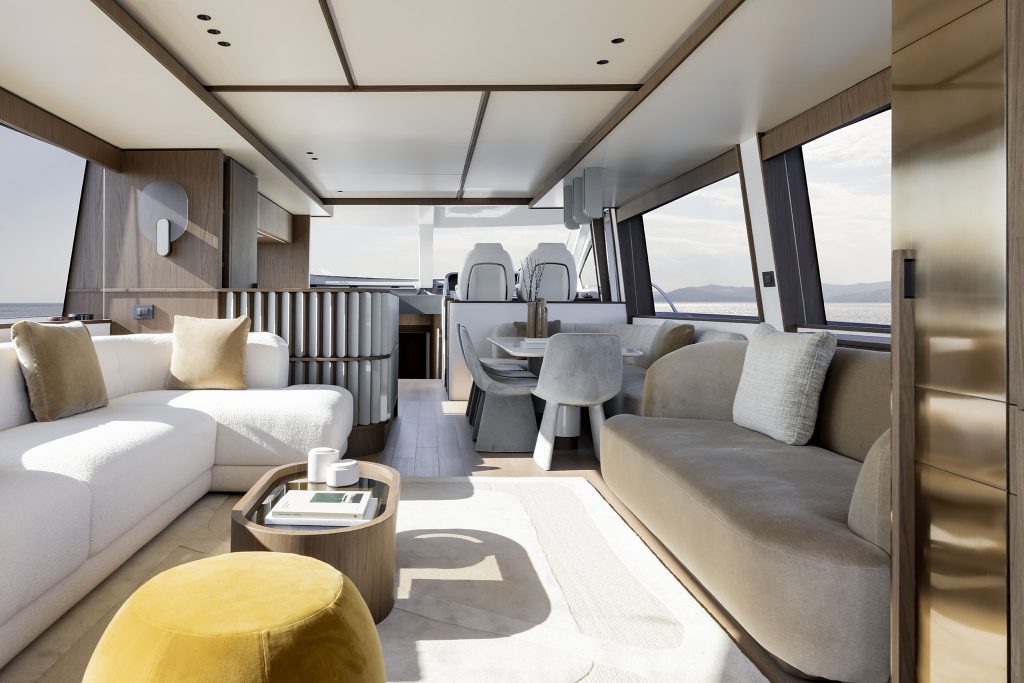 UNDER THE SUN
The unexpected dinette completes the forepart of the main deck, offering a glass-enclosed table with diner-style seating. Extending overhead, the windshield bathes the elevated enclave in light, spotlighting it for breakfast.
The dinette's position between the galley, helm and side door is ideal for a crew mess, clear of the guest dining and lounging areas. For professional catering, the galley may be enclosed with full-height walls and a sliding door, maximizing peace and privacy.
A SANCTUM OF RELAXATION
Asymmetrical design elements, pastel colors and natural, tactile materials create a sense of tranquility seldom felt even at home. The private bathroom and walk-in closet ensure the utmost comfort for extended stays at sea, with a vanity desk and chaise longue to starboard and storage to port.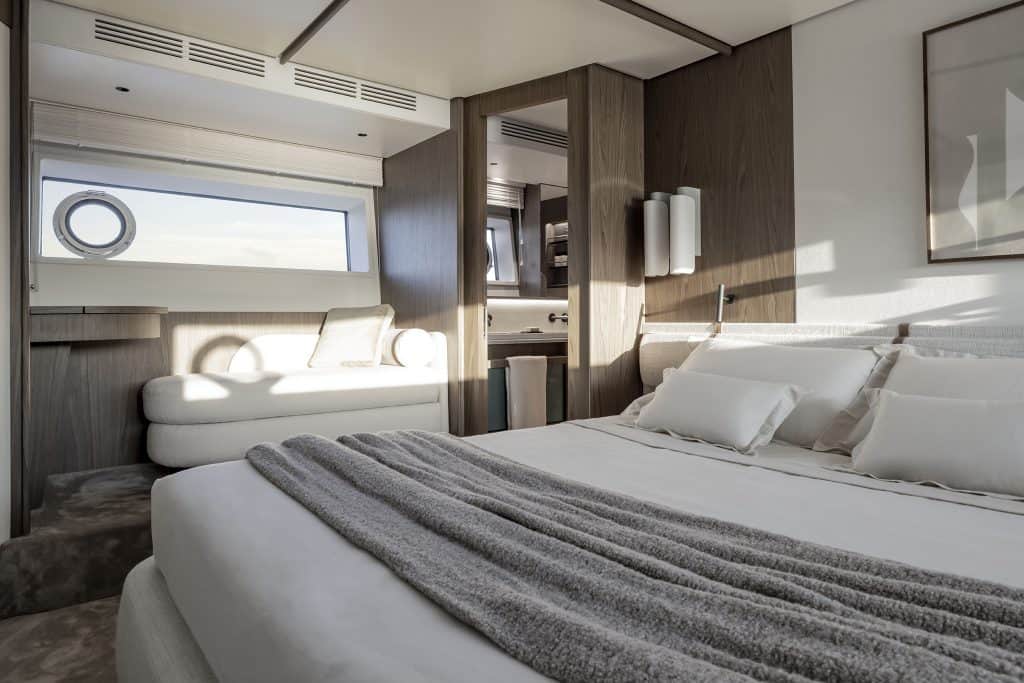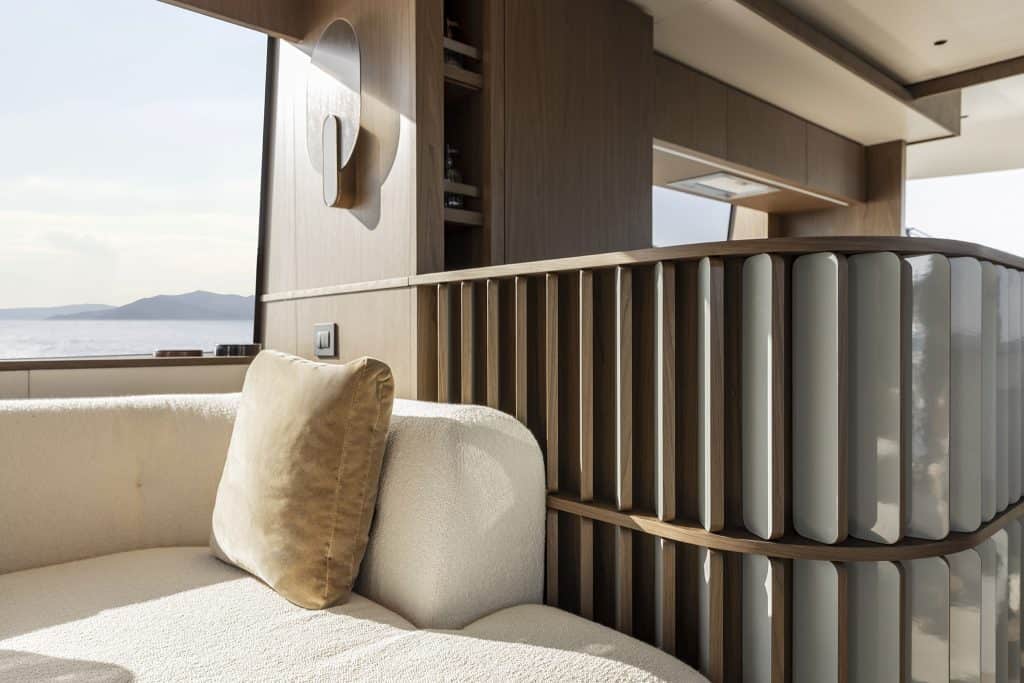 Live an enhanced experience
To know more about this boat, take a true connoisseur cruise.
I'm interested
Technical Features
Our advanced toolkit
Carbon-Tech Generation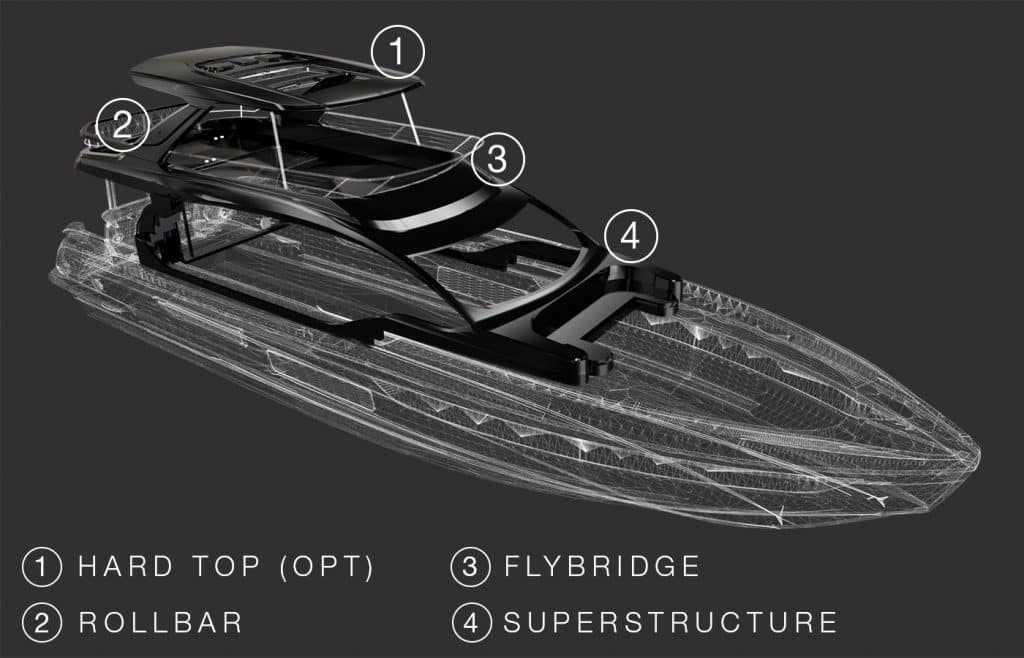 Azimut's pioneering use of carbon fiber lamination goes beyond pure performance. The Carbon Tech Generation offers expanded volumes onboard, while maintaining excellent dynamic stability and perfect handling. Preserving the yacht's low center of gravity, the carbon fiber was focused on the upper parts of the yacht, lightening the laminated components by up to 30% and reducing the natural roll momentum up to 15%.
Eco-Yachting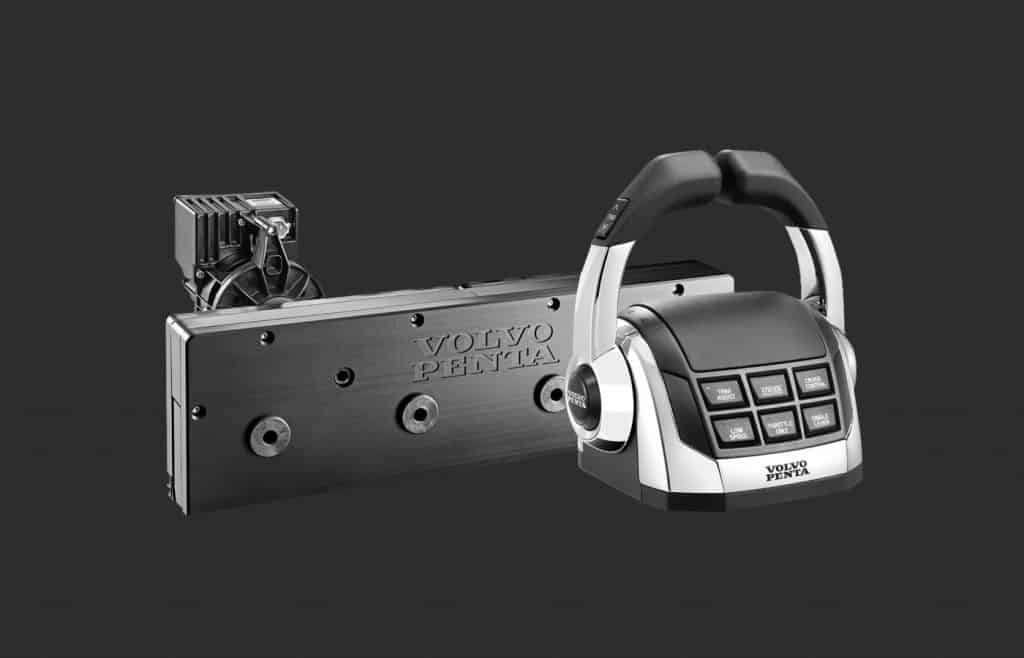 Automatic interceptors by Humphree gives the vessel the lift it needs to get up on plane faster or to reach that optimum running trim. In this way the resistance of the hull is automatically optimised for every speed and load condition, this resulting in increased speed and lower fuel consumption. The Humphree system is all electric powered by 12-24 Volt DC. Thanks to the design of the Interceptor it only requires a small amount of power to move the blade up and down, even under high speed operation.
Integrated Control & Monitoring System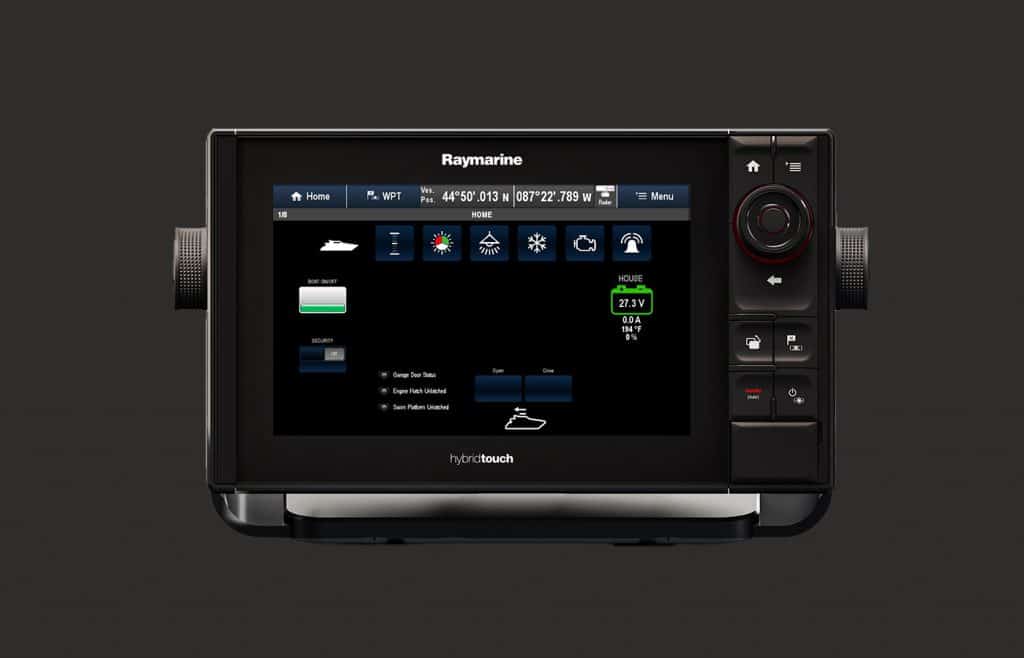 The custom-installed Raymarine electronics have been integrated to control and monitor every onboard system: from engines and alarms, to bilge and water discharge pumps, tank levels and engine room ventilation, right through to the sound system and the air conditioning units. The system can be accessed onboard from both the interior and exterior helm stations and, with the mobile app, remotely from a tablet or smartphone.
Automatic Fuel Transfer E-Pump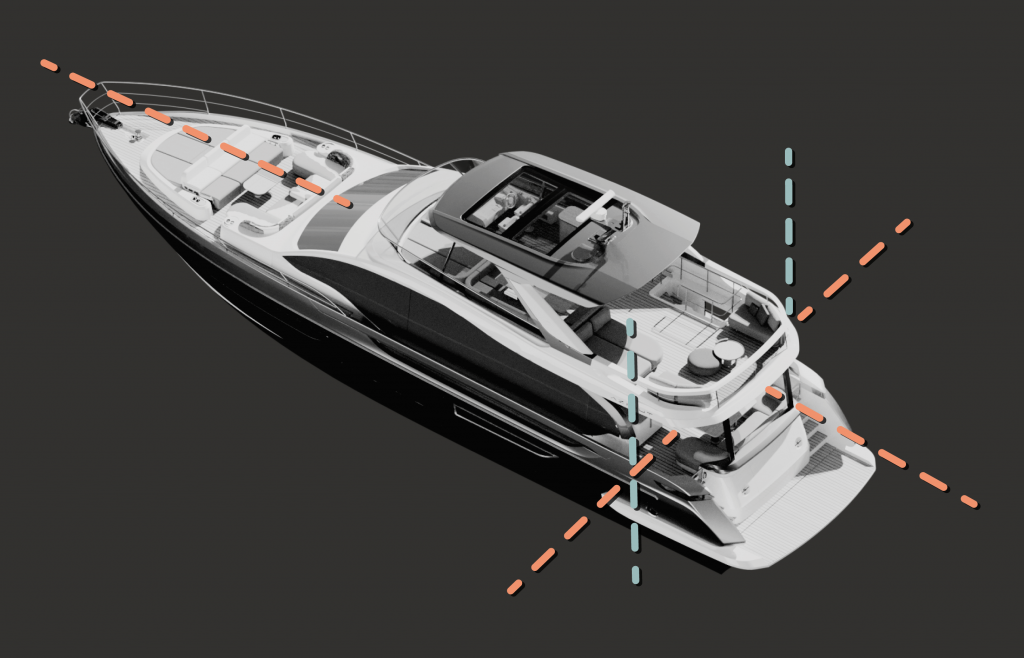 The system automatically transfers the diesel fuel from tank to tank, ensuring that the heel angle is kept close to zero in the case of variable load distribution and refuelling.
High Technical Standard Declaration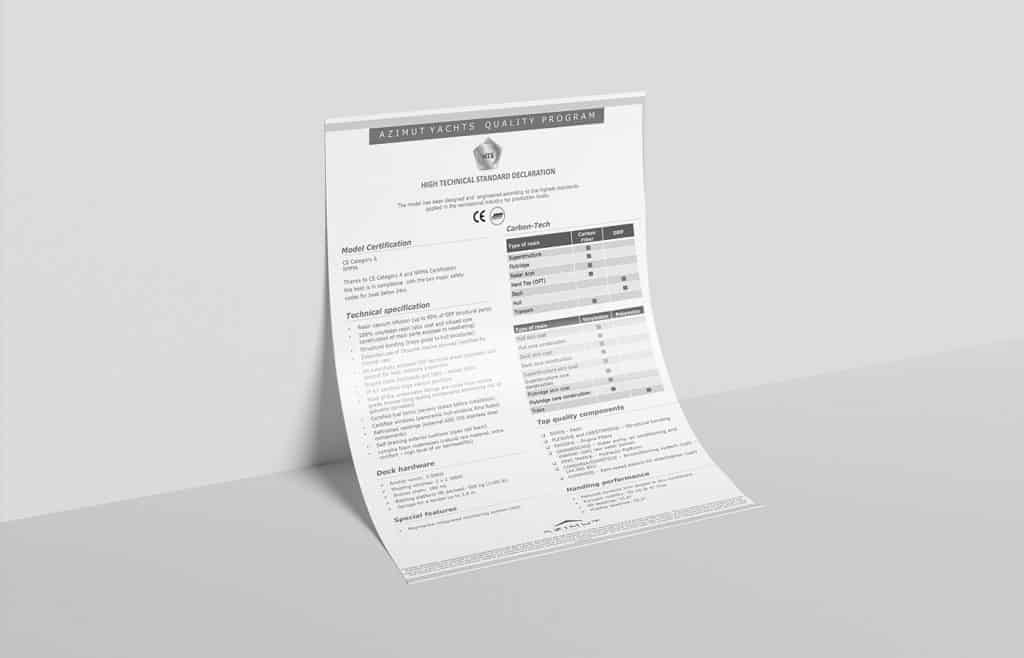 This yacht's design and engineering meet the highest standards for production recreational vessels. Azimut Yachts issues a declaration of the premium materials, advanced technology and rigorous testing procedures.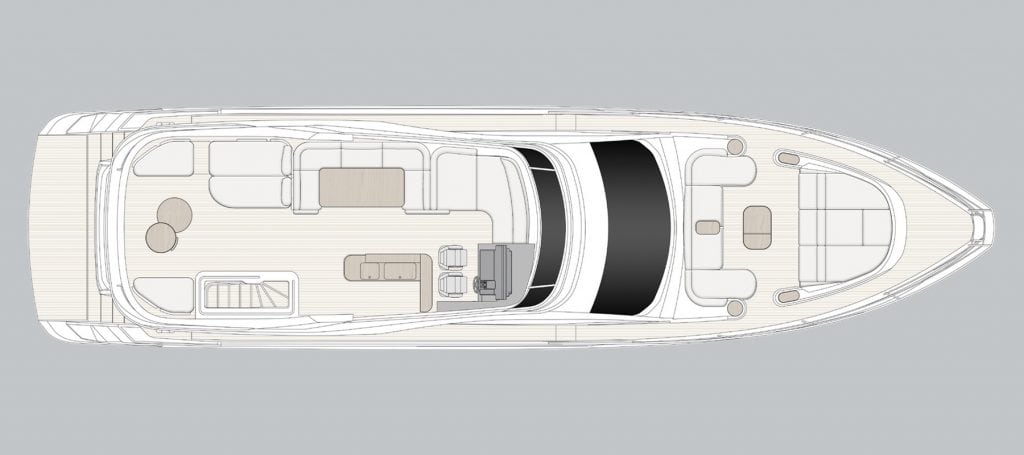 Flybridge - Lift TV 42" OPT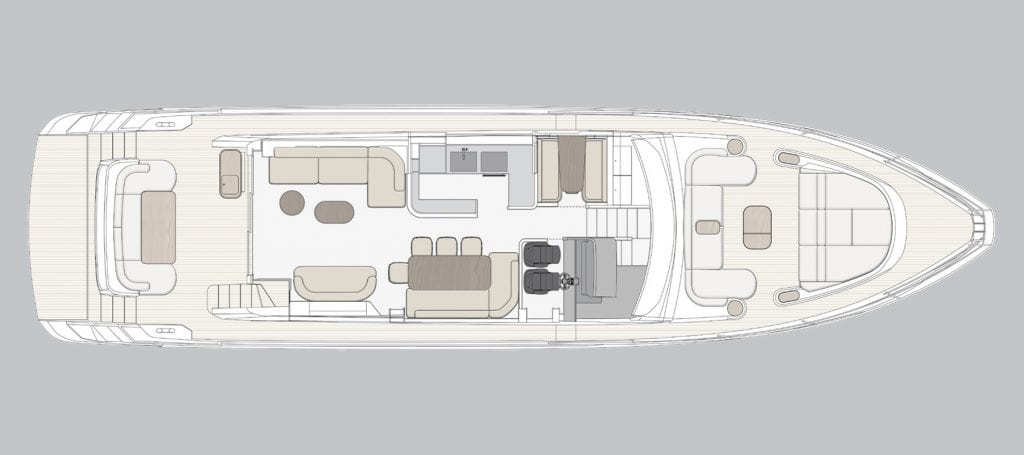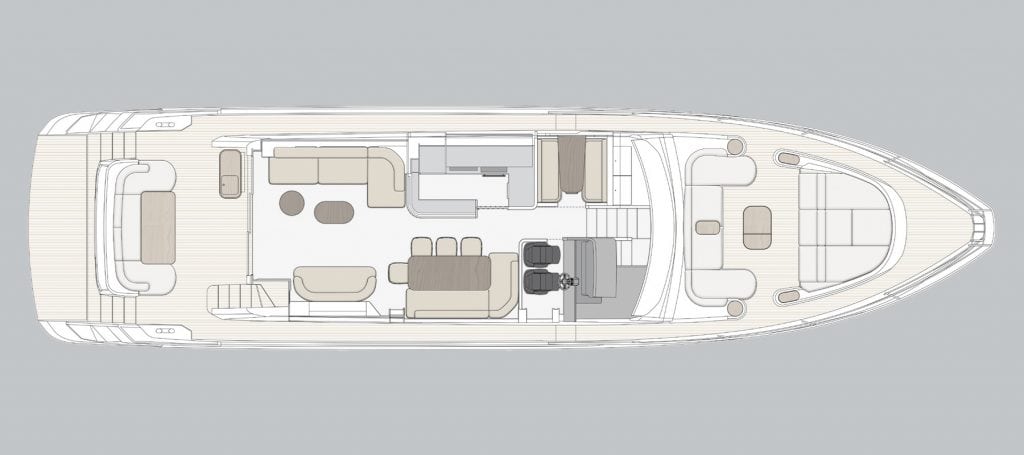 Main deck - Enclosed Galley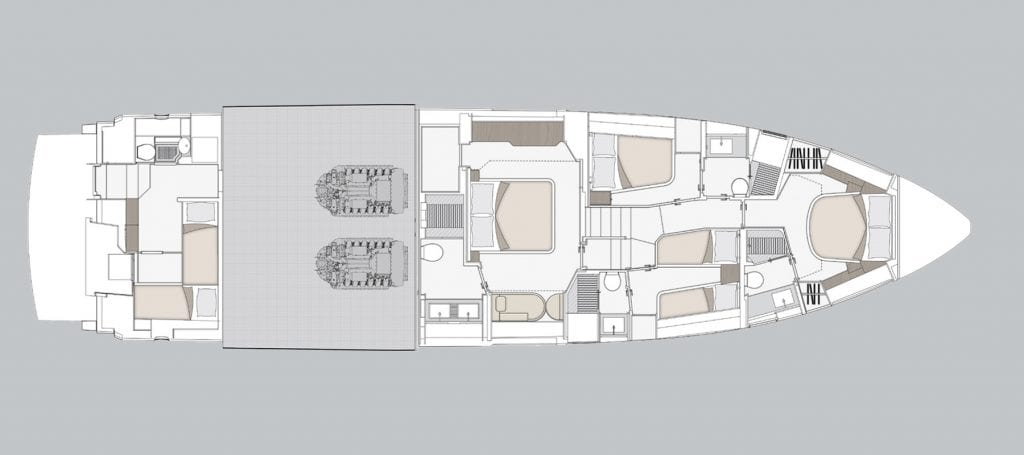 Data summary
FLY 72
AT A GLANCE
Main Technical Specifications
Length overall (incl. pulpit)

Draft (incl. props at full load)

Displacement (at full load)
P.L. AUSONIO Naval Architecture & Azimut R&D Dept.

Planing with deadrise 15° aft
Maximum speed (test load)

Cruising speed (performance test mass)
the data refer to UNI ISO 8666 conditions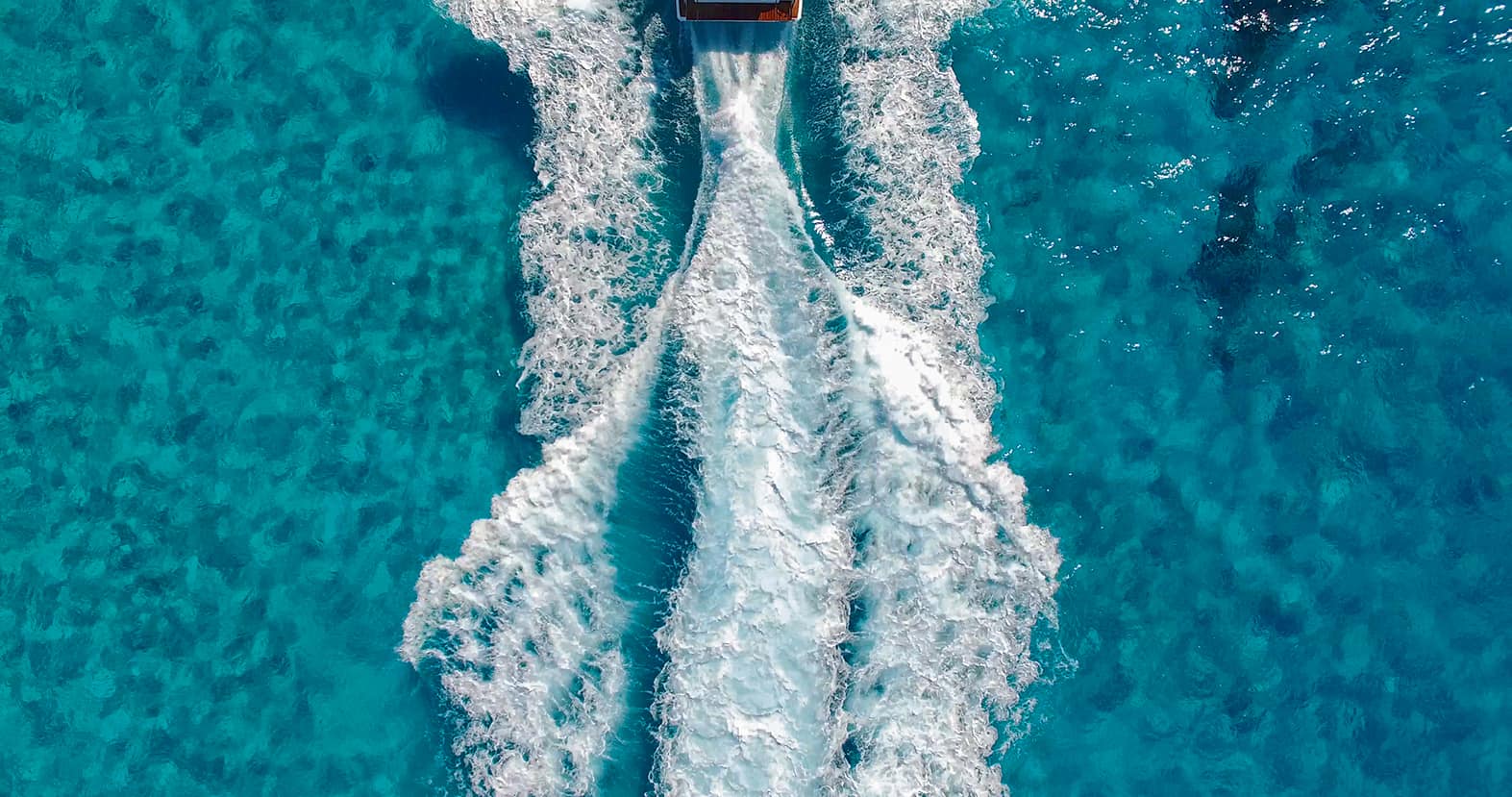 Our select dealers will proudly provide you with all the information you require