Back to all news
AZIMUT | BENETTI REPORTS RECORD-BREAKING PERFORMANCE: ORDERS WORTH OVER TWO BILLION EUROS DRIVEN BY THE EXTENSIVE COLLECTION AND THE NEW GRANDE TRIDECK, B.NOW 50M AND OASIS 40M MODELS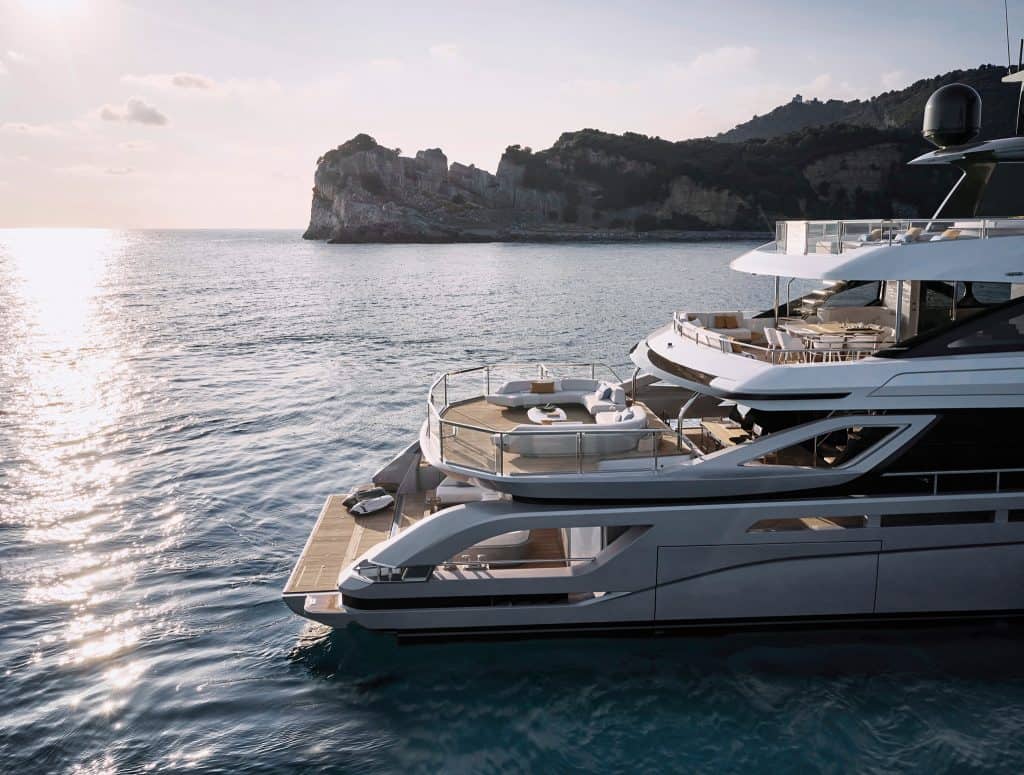 It has been a remarkable season for the Italian luxury yacht Group, with both its Azimut Yachts and Benetti brands reporting unprecedented sales, driven by the success of their wide-ranging product portfolios and the latest models introduced, which perfectly reflect the desires of new-generation owners.
In recent years there have been many peaks for Azimut|Benetti, thanks to a steady rise in new orders that culminated in 2021 with the Italian Group reporting a backlog of over two billion euros for the first time in its history.
This incredible performance, which is synonymous with Azimut|Benetti's long-term economic and design solidity and strengthens its position as the world's leading private Group in the luxury yacht industry, is the result of contributions by both brands with their rich and diversified product portfolio and new models that have successfully introduced new trends: 38-metre Grande Trideck for Azimut Yachts and Oasis 40M and B.Now 50M for Benetti.
These models have been particularly well-received because they are designed for spending long periods on board and promote a new concept of luxury, at the same time as respecting the characteristics of design, innovation, performance and sustainability that are a feature of all Azimut|Benetti creations.
The response to the desire expressed by contemporary owners to enjoy spaces ever closer to the water has driven sales of Grande Trideck, Azimut's 38-metre flagship and the first three-deck yacht with four terraces cascading down to the water. 16 units have already been sold of this model, a recent winner at the Miami Innovation Awards 2022.
Turning to Benetti, the greatest rewards on the order book front have come from 2021 World Superyacht Awards winner Oasis 40M and from B.Now 50M, which have delivered record-breaking sales for the brand. In a little less than three years, 20 and 15 orders have been placed respectively for these two categories of megayacht. These are outstanding numbers, especially when one considers the fact that yards would consider 3 deliveries per season of yachts this size to be a success.
These results have been made possible by the Group's ability to anticipate trends and interpret the desires of the modern owner, who today prefers a closer relationship with the water, and for whom Benetti has invented the Oasis Deck®, which transforms this traditional swimming and sunbathing area into what can only be described as a floating beach.
There has also been sustained demand for the greenest models in the Benetti fleet. The brand has been working for years to mitigate the environmental impact of its boats, and even in the 37M segment, out of a total of nine orders for B.Yond, four of the units will be equipped with hybrid propulsion systems.
"I think the key to our success in recent years has once again been the combination of courage and enthusiasm with which the company as a whole has sought to push the boundaries: in new models, in manufacturing excellence and in new sustainable technologies. Our efforts have been repaid with significant results, which we will invest in further incredible novelties that we are already working on, as well as in sustainable growth and in our people,"
said Giovanna Vitelli, Azimut|Benetti Group Vice President.