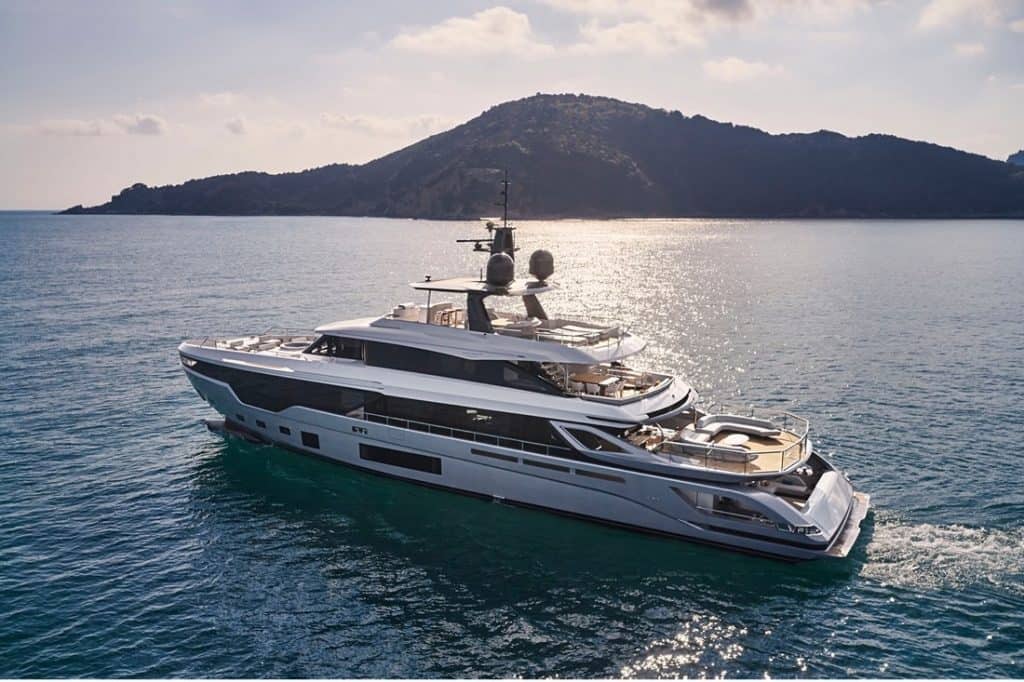 The NMMA and Boating Writers International (BWI) honored Azimut at the 2022 Miami Innovation Awards, An honorable recognition from the American manufactures for the Italian brand.
The Innovation Awards is one of the industry's most prestigious honors recognizing manufacturers and suppliers who bring new, innovative products for the boating industry to market. Innovation being a key component of the brand, Azimut's Grande Trideck was honored with the 2022 award in the Cabin cruisers, Motor Yachts, and Trawlers category. "With the unique raised mezzanine deck, Azimut adds to and redefines outdoor living on a yacht," said judge Zuzana Prochazka.
The Trideck is the first triple-decker as well as the largest boat built by the brand. Along with three decks, the Azimut Grande Trideck also features an additional floating deck, known as the Sea View Terrace, that appears to be suspended in air, 2 meters above the water. The Sea View terrace is the principle of "+ One", a new design concept and a testament to Azimut's innovative capacity; the feature offers the owner four cascading terraces onto the sea, unique in function, size and flexibility.
The Azimut Grande Trideck offers innovative design solutions, starting from the tonnage, which remains below 300 GT despite the generous interior volume; this is made possible thanks to the large beach area, which is kept partially opened. The extra space is therefore available for an expanded living area with a special focus on the full beam skylounge. The first of the most significant elements of the Azimut Grande Trideck from a technological point of view is the debut of the new second-generation D2P® Displacement to Planning hull.
The combination of the D2P® hull and carbon superstructure mean a significant improvement in performance: lower fuel consumption, higher speed and longer range. From concept and design to innovation in performance and technology, the Azimut Grande Trideck is truly a revolutionary model that perfectly represents Azimut's spirit.
The Awards were presented during the Discover Boating® Miami International Boat Show's® Industry Breakfast, presented by the Recreational Boating & Fishing Foundation, held at the Miami Beach Convention Center. The award itself holds great value to the brand as it was presented by American manufacturers to an Italian brand.
The Innovation Awards judges' committee comprised seven BWI members who perform product testing throughout the year and have specific expertise in marine products and equipment. The judges' committee included Ben Stein (Chair), Zuzana Prochazka (Co-Chair), Alan Jones, Lenny Rudow, Gary Reich, Frank Lanier, and Ryan Gullang.