Back to all news
Azimut at the Genoa International Boat Show 2022 with 9 models and the new Grande 26M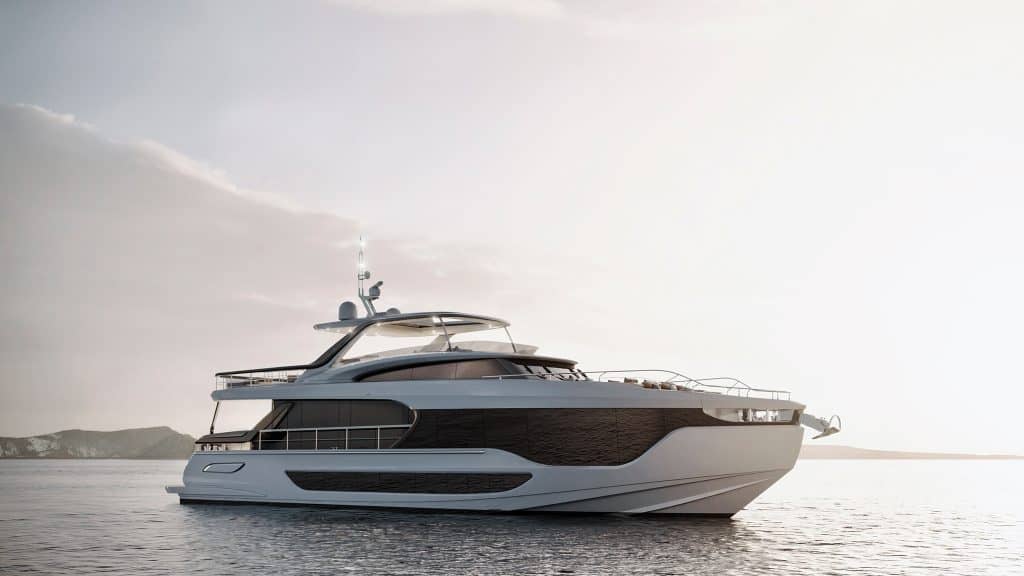 After its success at the Cannes Yachting Festival, Azimut will be attending the 62nd edition of the Genoa International Boat Show from September 22 to 27, 2022.
The Genoa Boat Show, synonymous with Made in Italy excellence and prestige, will feature Grande 26M among the yard's new products.
Azimut was the first brand to believe in the Pod propulsion systems that are today's market-leading technology. Drawing on past experience, for Grande 26M the Yard developed the new Pod 4600 propulsion system in partnership with ZF and installed it for the first time on the new Grande line model.
The system, combined with a 30% lighter superstructure achieved through the extensive use of carbon fibre, delivers 20% lower fuel consumption than boats the same size at the most frequently set speeds. As a result, Grande 26M is one of Azimut's Low Emissions Yachts, as are half the models in the brand's entire range.
Grande 26M is the result of the ambitious project to set a new benchmark in this size category and offer the same features as a mega yacht. This has been achieved thanks to five cabins, including the full-beam owner's suite on the main deck, and separate flows for guests and crew, who have quarters located in the bow to guarantee absolute privacy, as is the case on superyachts.
A stunning feature is the remarkable Deck2Deck™ Terrace, developed around the revolutionary new concept launched on the market by the range flagship, Grande Trideck: a terrace that looks out to sea from the water's edge. The Deck2Deck™ Terrace is obtained by extending the transom, which can fold up to transform the cockpit into a spacious terrace suspended between the sea and the sky, for use either as a lounge space or a dining area with a walkaround table.
The exterior styling is penned by the unmistakable hand of Alberto Mancini, while the interiors are designed by Achille Salvagni.
The Genoa International Boat Show will also be an opportunity to present other yacht from the Shipyard:
Magellano 66, S8, S6, Fly 60, Fly 53, Fly 50, Atlantis 45.