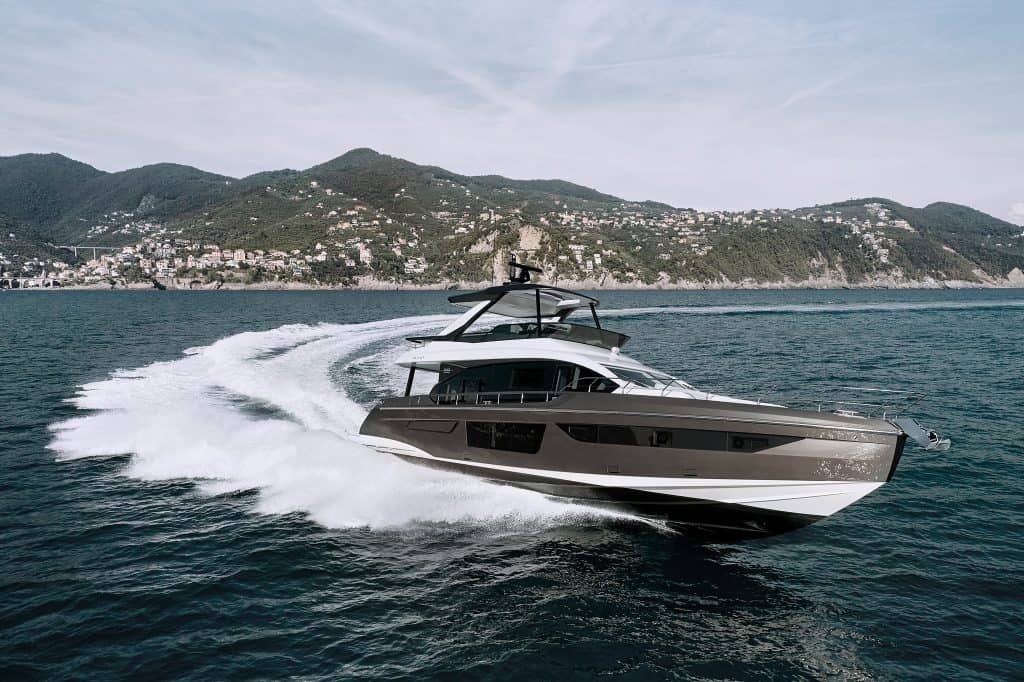 At the Middle East's most important and best-attended boat show, held from March 1 to 5, Azimut will be exhibiting four models already held up as masterpieces: Fly 68 and 53, S10 and Grande 27M. All four are motor yachts that leave owners in awe of their refinement and elegant style, of their forward-thinking and innovative solutions, and of their ability to interpret the desires of the brand's loyal fans.
With over 800 brands taking part, 30,000 visitors expected, and 150 boats exhibited, the Dubai International Boat Show is ready to raise the curtain on the Middle East's most important event for the industry, now in its 29th year. From March 1 to 5, the stands and piers in the newly developed Dubai Harbour will be brought to life by owners, boating enthusiasts and industry operators, who are the driving force behind this must-attend event to which Azimut will also be taking a booth.
Riding the wave of success generated over the years by the brand's yachts that led Azimut into a leadership position in this strategic market,  and determined to pursue its growth strategy in this geographical area, the Italian shipyard will be showcasing some of its best-sellers at the show. They are all models that have already attracted the admiration and interest of owners who are both amazed and excited by the solutions they introduce.
The star of the show will be the Fly 68, the latest model in the Flybridge serie and another collaboration between the shipyard and designers Alberto Mancini and Achille Salvagni. The 21-meter yacht designed by the two architects is like a fine bespoke suit, perfectly tailored to the owner's needs. This is the result of a clear vision, in which the three different deck layouts developed for this 21-meter semi-custom yacht appeal to multiple categories of owner, and one of the reasons for this model's best-seller status. Fly 68 also has some pleasant surprises in store for the owner from a technical perspective. Combining a twin pod propulsion system with an optimized hull, the new model forms part of Azimut's new family of Low Emission Yachts, which reduce both fuel consumption and emissions by between 20 and 30% compared with shaft line boats of the same weight and size that have a traditional chine hull.
When it comes to performance, the clear winner is the S10, where the "S" stands for speed and sport. This is a pioneering model in Azimut's "Carbon Tech Generation" because of the extensive use of carbon fiber to reduce the weight of laminated components by up to 30%, which translates into pure performance, excellent stability and handling, and even more onboard volume. S10 is a 28-meter sportboat created to offer a cruising experience defined by relaxation and high performance, with hull lines and exterior styling once again by  Alberto Mancini and living spaces designed by Francesco Guida. The sleek profile, featuring a two-level cockpit and a more secluded living area, is a clear statement of the sporty character of this series of Azimut yachts. Designed with a seaside villa in mind, the interiors play on the combination of precious woods and white lacquer, ennobled by brush strokes, decorations and fine furniture.
Also on show in Dubai, Grande 27M and Fly 53 have always had keen admirers in this geographical area because of their onboard solutions and excellent seakeeping.
Azimut will be at the Dubai Boat Show 2023 from March 1 to 5, Azimut / Seas & Deserts stand no. MD-35