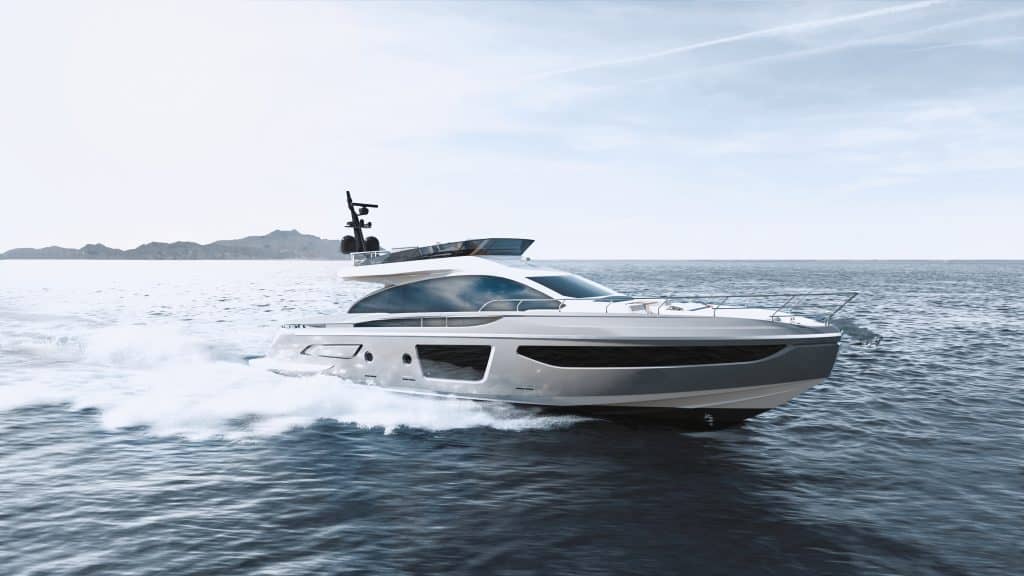 Azimut welcomes in 2023 by taking part in Boot Düsseldorf with the world preview of the new S7, the yacht with a sporty personality and a host of technology at its heart that delivers an unrivalled reduction in consumption, and therefore emissions, for the segment.
Azimut will once again be attending the Düsseldorf International Boat Show this year, from January 21 to 29, with an exciting new product: Azimut S7, the sporty new entrant in the S Collection, enhanced by generous volumes and a contemporary, light-filled design.
With truly inspired exterior design by Alberto Mancini, this 22-meter craft joins Azimut's Low Emission Yacht category. It is a boat that successfully combines a sporty spirit with reduced environmental impact, made possible because the S7 draws on the most technologically advanced solutions in the yacht industry, involving the extensive use of carbon fiber to reduce the boat's overall weight, a highly efficient propulsion system powered by three Volvo IPS engines, and perfectly optimized hull lines designed by P.L. Ausonio Naval Architecture. These innovations have all been introduced with the specific purpose of reducing consumption and therefore CO2 emissions by up to -30% at medium and high speeds, while delivering unrivalled performance in the category. In addition, the use of carbon fiber and the compact propulsion system translate into greater interior volume and more space on board for the owner and guests.
At the German boat show, in the Lounge designed by multidisciplinary architecture firm AMDL Circle led by architect and designer Michele De Lucchi, recent winner of the Compasso d'Oro award for his career, Azimut's fleet will be made up of this first new product in 2023, accompanied by two models in the Fly Collection, also with exterior design by Alberto Mancini: Fly 53 and Fly 78. Both mid-sized flybridge yachts, the first is ideal for families who want to spend long holidays at sea in comfort, while the second is a model in the Carbon-Tech generation, enhanced by Achille Salvagni's sophisticated interior design.
Another important presence at the German boat show is the Magellano 66, an exemplar of the Magellano Collection, which was the first to introduce the crossover concept in the yacht industry. Azimut R&D team with P.L. Ausonio Naval Architecture signed the second-generation Dual Mode hull that has proven itself to be so efficient over the years as to become a benchmark for the entire leisure yachting market.
As can be seen, the Düsseldorf Boat Show will provide Azimut with a stage on which to underscore its global leadership, presenting products that combine the latest technology with a focus on sustainability. The issue of respect towards the environment and the entire marine ecosystem is tackled with a pragmatic approach, by building models that significantly reduce consumption and increase energy efficiency.
Azimut will be at Boot 2023 from January 21 to 29, 2023, Hall 6, Stand D58