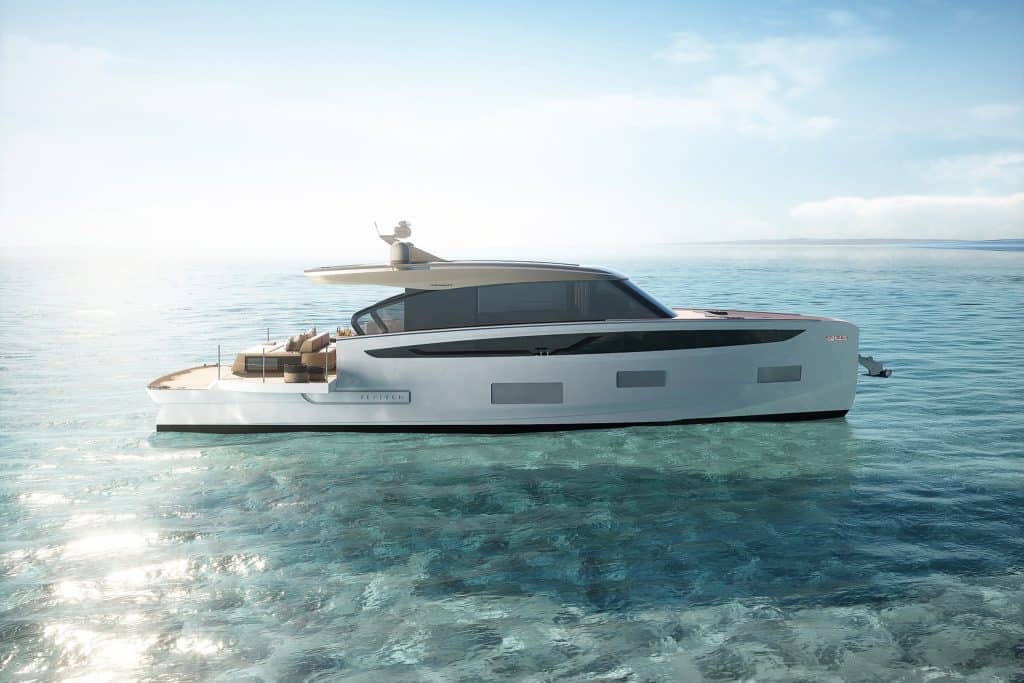 HYBRID AND NEW TECHNOLOGIES TO REDUCE ENVIRONMENTAL IMPACT AND RETURN TO NATURE 
Seadeck, the first Series of hybrid motor yachts for families and the most efficient ever designed by Azimut. A new line that embodies the ideal of a return to nature, thanks to technological solutions that reduce emissions by up to 40% and the Fun Island, a reinvented aft terrace that "embraces" the sea and defines a new lifestyle paradigm based on wellbeing. This innovative and holistic concept has been developed in collaboration with Alberto Mancini and Matteo Thun & Antonio Rodriguez, making their debut in the world of yachting.

Left to right: Seadeck 6 and Seadeck 7
In Azimut's most recent launches, technological innovations to reduce environmental impact have been introduced alongside design solutions that bring down barriers between interior and exterior, re-establishing closer contact with the sea and nature. Over half of Azimut's fleet is now made up of Low Emission Yachts, in fact, and the latest revolution in the history of nautical design is Benetti's Oasis Deck™, an instant success that soon became the new experience and style paradigm for the entire industry. They are examples of a unique combination of technology and design in the service of a deeply felt vision pursued with passion, that of returning to a more conscious relationship with nature, protecting it and putting it at the centre of the onboard experience.
The Seadeck Series achieves this ideal by combining two aspects that define Azimut's approach, technological innovation and creativity in both style and design, the result of contaminations and inspirations from the world of industrial design and architecture.
From a technological standpoint, the new Series is the culmination of Azimut's 20-year R&D drive to implement sustainable innovations. A green route in which the most significant milestone to date is the success of Azimut's Low Emission Yachts, models that deliver a reduction in emissions of between 20% and 30%. As yet unmatched on the market, this result has already been built on by the new Seadeck range, moving closer to the CO2 emissions containment target set by the International Marine Association (IMO) ahead of the 2030 deadline.
Seadeck is in fact the first series of models from 60' up that already integrates Volvo hybrid propulsion, onboard systems designed to reduce energy consumption and solutions to cut emissions: more than 40% carbon fiber surface, the planning hull is the most efficient ever built by Azimut, zero-emissions roadstead stop, thanks to state-of-the-art battery pack. A combination that will deliver a 40% reduction in CO2 emission over a year of average use, both when cruising and at anchor, compared to a traditional flybridge boat of similar dimensions.
The meeting of technology and onboard life has brought about a full return to nature. In terms of experience, the Seadeck Series is the new motoryacht for families, which for the first time in this segment combines generous onboard spaces with a totally open aft lounge that practically "embraces" the sea.

Above: Seadeck 6 "Fun Island"
This is the 'Fun Island', a space re-invented to offer an experience immersed in nature, but also a new way to spend time together on board. Because when the large windows are open, the interiors and exteriors become a single space, while the possibility of interacting with everyone, including those in the water, removes the last physical and social barrier. In other words, it's a space for 'fun' in both real and symbolic senses.
Giovanna Vitelli, Chair of Azimut|Benetti Group, comments:
"Seadeck is a new starting point for future generations. We wish, once again, to chart a course that will be an inspiration for the entire industry, so that the theme of respect for the environment is interpreted – as it is for Seadeck – with a concrete approach made up of investment, technological research, and the courage to introduce a new lifestyle that embraces the sea."
To create the Seadeck Series, Azimut decided to work with designers who shared this ideal of returning to nature: Alberto Mancini and Matteo Thun & Antonio Rodriguez.
Alberto Mancini came up with an innovative concept in which, right from the very first sketches, the exterior communicates naturally with the interior. To do this, he modulated the lines from taught and dynamic to sinuous and essential, thus defining the infinite space of the Fun Island: "We wanted to create a boat that puts maximum emphasis on the concept of openness and transparency, and that also represented a radical change in terms of the relationship with nature. With the introduction of the Fun Island, Seadeck is actually a floating island where owners can get away from their daily routine and live in total contact with the sea," comments Alberto Mancini.
In their interior design concept for the Seadeck Series, Matteo Thun and Antonio Rodriguez draw on the "conscious" philosophy that is the distinctive feature of their approach to architecture. Their collaboration with Azimut is explained by the sharing of precise values: the desire to work by subtraction to reveal the "heart" of a space where it's easier to "feel good", a redefinition of luxury based on wellbeing, and the choice of natural or recycled materials. As in the decision to use cork – an age-old Mediterranean material capable of spontaneous regeneration – to replace teak.

Left to right: the owner's suite onboard Seadeck 6 and the main salon oboard Seadeck 7

"We prefer to talk about consciousness rather than sustainability, a philosophy that determines our way of practising architecture," explain Matteo Thun and Antonio Rodriguez. "We try to work by subtraction, because reduction means durability, both technical and aesthetic. And a boat must stand the test of time and be beautiful forever".
Seadek 6, the first of 3 models in the Seadeck series will be presented at the Boot di Düsseldorf 2024; Seadeck 7 and Seadeck 8 will follow between 2024 and 2025.