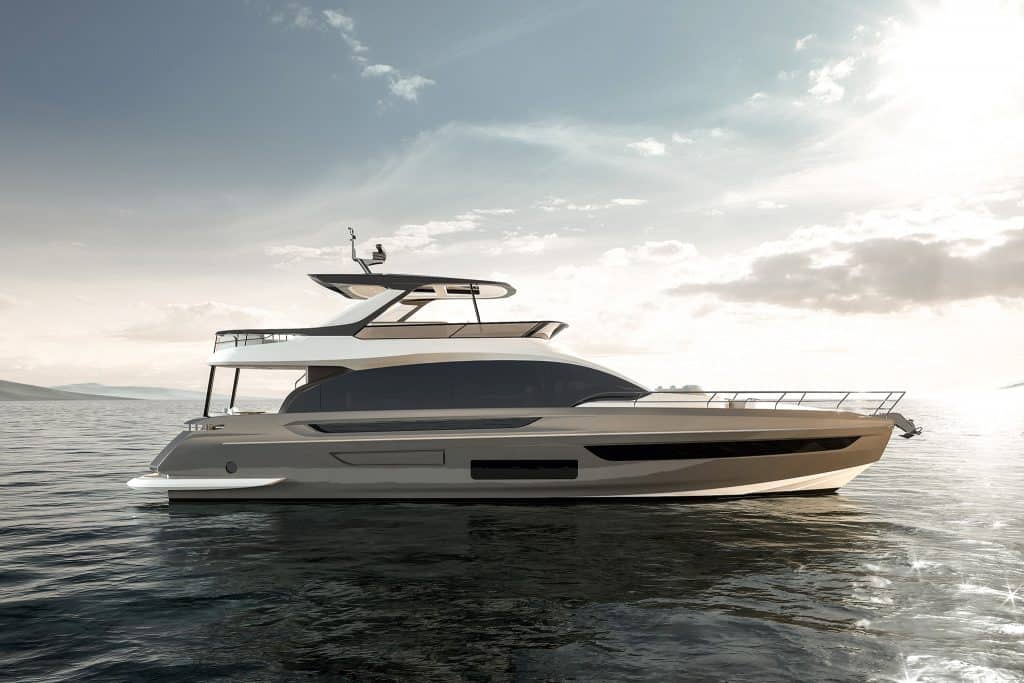 ANOTHER NEW AZIMUT AT THE CANNES YACHTING FESTIVAL 2023:
THE NEW FLY 72 WORLD PREMIERE ON THE CROISETTE
Ahead of its time, Azimut presents the New Fly 72 and chooses the 2023 edition of the Cannes Boat Show for her world premiere.
The new model of the Fly Series amazes with exteriors designed by Alberto Mancini and interiors by the architect and designer Fabio Fantolino, making his debut on a yacht.
Azimut is unveiling the New Fly 72, which joins the Magellano 60 and Verve 48 as the shipyard's third international premiere at the 2023 Cannes Yachting Festival.
The New Fly 72 enriches the Fly Series, the iconic Azimut line that recalls the revolutionary spirit of the past for the avant-garde of tomorrow, offering the timeless emotion of gliding over the waves, suspended between sky and sea in absolute freedom. The latest addition to the Series features exterior lines by Alberto Mancini and interiors by architect and designer Fabio Fantolino.
Fabio Fantolino makes his debut in the nautical world with Azimut's New Fly 72. The architect and designer with studios in Turin and Milan stands out for the strong identity of his work, the result of creative sensitivity and global thinking. His possession of made-to-measure design culture has led him to embrace interior design projects for residences and hospitality.
Fabio Fantolino renders the interiors of the New Fly 72 according to his stylistic hallmark, the search for perfect harmony between elegance, design and technique. Azimut shares his views as a leader in the design and creation of yachts that symbolize the purest union between technology and beauty.
The concept studied by Fabio Fantolino for the New Fly 72 stems from the desire to outline this model with a contemporary and elegant look. The interiors of the Fly 72 are designed with a transversal stylistic line, which runs from the exclusive atmospheres of the nautical world to the refinement of contemporary design. These two worlds meet in the project, creating imagery inspired by the masters of Italian design of the last century to reinterpret iconic details and define a new and unique style. The transversal design is also evident in the choice of materials and shapes: wood combined with precious materials such as bronze and glossy lacquers, and shapes balanced between linearity and softness.
The exteriors are the work of Alberto Mancini, who continues to interpret sporty DNA that characterizes the history of Azimut yacht design. With the New Fly 72, Mancini's stylistic language introduces an evident clean line, which further emphasizes the sculptural tension that characterizes the design of the Series.
Azimut will be at the Cannes Yachting Festival 2023 from the 12th to the 17th of September at the stand JETEE006 – PALAIS082